Posted by the dood on Tuesday, September 9th, 2014
Kent BK8 Silvertip Badger Shaving Brush
Specs:
Hair Type: Silvertip Badger
Knot Size: 27mm
Loft: 55mm
Handle Height: 55mm
Total Height: 110mm
MSRP: ~$150USD
The BK8 is a legendary shaving brush made by Kent Brushes, an old English company dating back to 1777. The BK8 is a large and luxurious brush, well-packed with soft silvertip badger hair. Kent Brushes holds a Royal warrant as well, as evidenced by the coat-of-arms on the handle.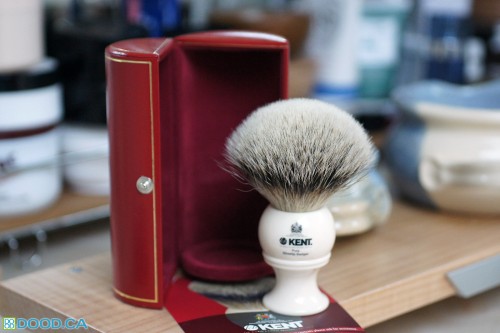 It comes packed in the trademark red cylindrical packaging that all Kent shaving brushes come in, with the red felt lined interior. Here it is in full bloom, the photo taken right after the first wetting. I cleaned it with some Proraso to break it in and it had less funky smell than most other brushes that I have owned.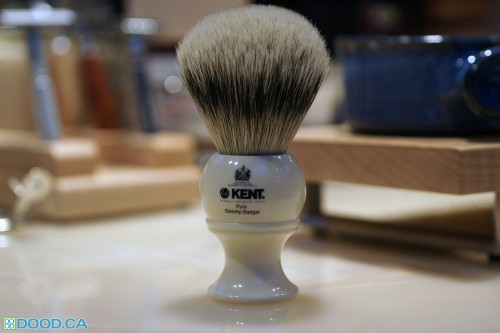 I wanted to get a brand new pre-use shot, because there is something about a brand new brush when the hair is all tight together. It looks so neat and tidy. The brush will never look like this again!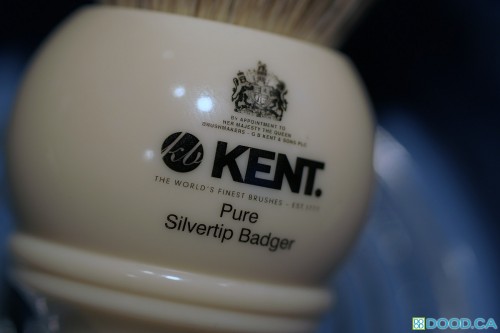 A nice shot of the logo, and the Royal Warrant, "By appointment to her majesty the Queen". Kent indeed makes some very fine brushes, for both shaving and for your hair. The handle is unique to Kent for the most part, with none of the other major shaving brush companies making a similar handle. Its also just about the most comfortable bowl lathering handle on the market!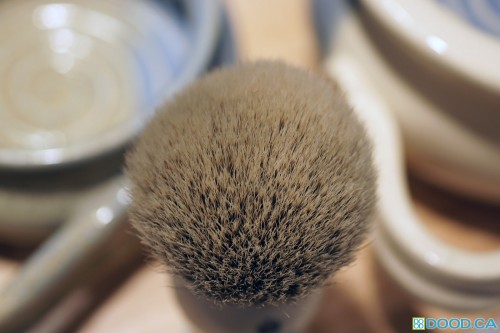 There the top down shot, to give you an idea of the density. Its a very well packed brush, but because it is fairly lofty, it doesn't have that solid block-of-hair feeling that you'd get from something like a chubby. The brush nicely splays when you are swirling it on your face, and feels absolutely fantastic. Very soft, though not as soft as the softest out there – no hooked tips on this one.
Here is a nice shot with a good swirl of shaving cream on it ready to go. The brush is quite dense, and is probably one of the best bowl and cream lathering brushes on the market. If you're a bowl and cream guy, this is one of the best choices out there. I find that it has a similar feel to a Simpsons Colonel 2XL, but at twice the size. The hair is not too scrubby, and is moderately thick, not too fine and certainly not fragile. The brush ranges in price from $120 to about $210 depending on where you buy it. The best deals to be had are from the UK direct.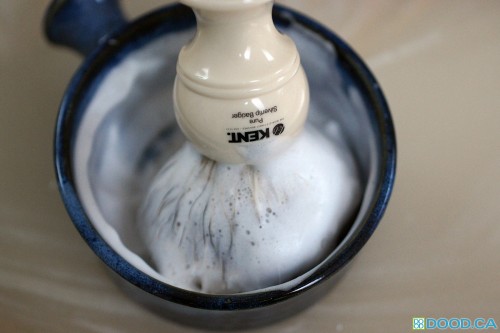 There she is whipping up a big bowl of lather. The brush has fantastic flow-through, and this is partly because its on the "floppy" side of the spectrum. Many serious soap and face latherers would find the Kent BK8 a bit floppy and messy. Its a big brush and it covers a lot of area when you're brushing your face, so it does lack the precision. However, so does chubby 3 but I don't see anyone complaining about that brush!
All-in-all, the BK8 is a big luxurious brush that does a great job with anything you throw at it, but really excels at bowl lathering creams. Its quite well-packed, but because of its floppiness it has excellent flow-through and lathers really easily. Overall I would highly recommend this brush to those that are looking for something like this. Its a good buy at what you can get it from direct from the UK.
Kent BK8 Silvertip Badger Shaving Brush Specs and Rating:
Handle Comfort: 9
Uncomfortable
Comfortable
Soap Performance: 6
Poor
Excellent
Cream Performance: 10
Poor
Excellent
Bowl Lathering: 9
Poor
Excellent
Face Lathering: 7
Poor
Excellent
Softness: 8
Scratchy
Soft
Backbone: 4
Floppy
Strong
Scrub: 2
Gentle
Scrubby
Density: 7
Sparse
Dense
Hair Thickness: 6
Thin
Thick
Flow-Through: 9
Lather Hog
Lather Giver
Value: 8
Rip-Off
Steal
Overall: 8
Mediocre
Excellent