Posted by the dood on Thursday, July 16th, 2015
The TGN Golden Nib High Mountain White knot is their flagship knot, featuring a very dense knot filled with some of the softest tips I have ever experienced. The density of the knot still gives it a decent amount of backbone in use too! The knot that I picked up was the slightly larger 20mm knot (it only comes in 19mm and 20mm) but its so packed that it needs a 25mm hole drilled into the handle to fit it. Price at the time of purchase for me was $49.95 for the knot, and it hasn't changed price in the year or two that they have started carrying the knot for sale.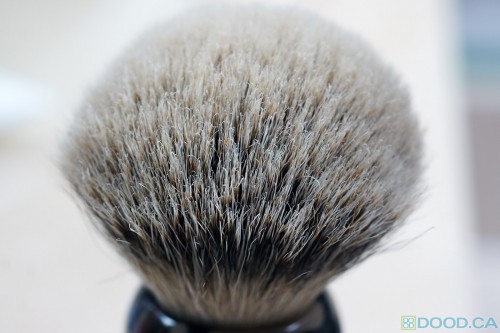 The knot has a 3-Band Silvertip Badger-like appearance, with slightly creamy-colored tips. The knot is a bulb shape, probably leaning towards a more bulbous-shape similar to some Thater brushes, though not quite as pronounced. The hairs are very consistent throughout the brush and show little variation telling me that there is good quality control and allocation of the hairs for this brush.
The TGN website describes the knot has having lots of backbone and medium soft bristles. I agree with the backbone statement, but the tips of this knot is incredibly soft. They are also all hooked tips and incredibly soft and plushy when lathered. The brush feels like a giant cloud on the side of my face when I am using it, and might be one of my favourite brushes I own. It lathers extremely well, and has very good backbone. This may be dependent on how much loft you have set the brush with.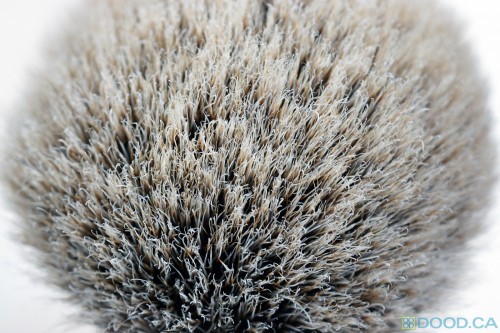 The hairs themselves seem finer, but very densely packed. They don't appear to be quite as brittle as the Grade A Silvertip, however. You can see under macro photo how many hooked tips these bristles have… I have compared it with the legendary Hooked Tips Rooney brush that a friend owns, and this one has even more hooked tips. It also has a distinctly different face feel than the TGN Finest with the hooked/gel tips. For those of you that aren't familiar with the hooked tips, they are generally associated with incredibly soft face feel on brushes and while they feel a bit hard when dry, become incredibly soft and gel-like when wet.
Before I tried this brush, the TGN Grade A Silvertip was my favourite knot from The Golden Nib. Now, the HMW (High Mountain White) has become my new favourite, especially with the last Grade A Silvertip I received being a bit scratchy compared to the first few that I have bought. My only one reservation about the tips of the High Mountain White is the sheer amount of hooked tips… it almost seems unnatural. Part of me wonders if they were treated to be this way afterwards, not that it matters that much I suppose, since it feels so great.
Overall, my favourite knot from TGN, and it is indeed a fantastic knot. It really should be at the price, considering it is as much as or more than many complete brushes out there on the market. I have not owned any Simpson or WSP or other Manchurian or High Mountain White badger knots so I cannot compare with those at this time… just other TGN knots and other standard Best Badger or Silvertip Badger knots from Simpsons and the like, and this knot feels better to me than most of those. Having said that, like most TGN knots, they don't seem to have the durability that Simpson knots do. The TGN's do seem to shed if I have not used them in a long time like several months. I have not noticed that with this knot in the 9 months that I have been using it.
TGN High Mountain White Badger Knot Specs and Rating:
Softness: 10
Scratchy
Soft
Backbone: 7
Floppy
Strong
Scrub: 2
Gentle
Scrubby
Density: 8
Sparse
Dense
Hair Thickness: 2
Thin
Thick
Flow-Through: 4
Lather Hog
Lather Giver


Click here to see a list of all TGN Knot Reviews here.