Posted by the dood on Friday, July 31st, 2015
Geo F. Trumper Coconut Shaving Cream in Tube
Product: Shaving Cream
Size: 75g
Origin: Made in England
Street Price: $18.00
Price Per gram: $0.24
Geo F. Trumper, one of the "three T's" of British shaving fame, is one of the oldest companies around having been established in the late 19th century. This one is their Coconut Oil scent, which is also reported to have the best lathering of all of the all the Trumper varieties. I've tried a few of them, but have not noticed a significantly discernible difference that couldn't be explained by water ratio, brush or bowl differences. Having said that, with different water types I think that could be a difference situation. I rarely have problems lathering any soaps or creams with my water.
I generally use a slightly larger than almond sized amount, but that's because I like a big luxurious lather and product is generally not that expensive. The brush I am using here is a TGN Finest 2-Band Fan mounted in a Rudy Vey chubby style handle. The scent smells strongly of coconut, and if you're a fan of coconuts, this is definitely for you. I find it pleasant, but I'm not as crazy about coconuts as some people.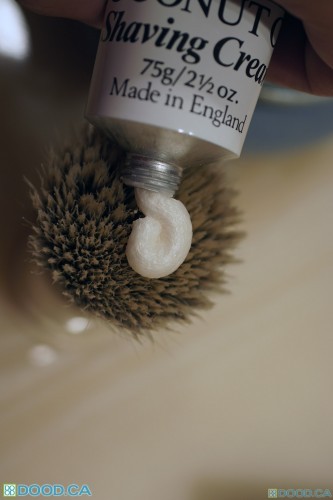 The product whips into a lather very easily, and is comparable to most quality English shaving creams out there. The cream does have a slickness to it that's really nice though, and it whips up nice and thick too. It seems slightly less thick in the tube than the tubs of Trumper I have had in the past, though I have never had Coconut in a tub.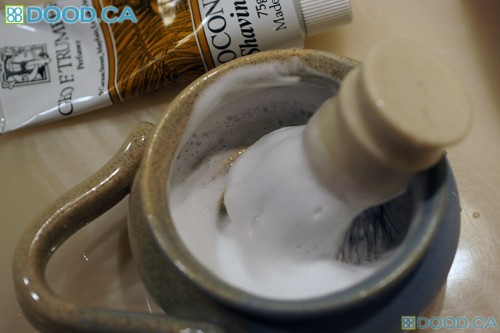 The cream starts off a little bit airy but after a bit more lathering, it thickens up. I know some people prefer a fluffier cream, but I like mine a bit more like yogurt. The shaving scuttle with the ridges tends to give me a fluffier lather, but can be tamed down with the right kind of brush manipulations in the bowl. The cream has lots of natural moisturizers in it that leave my face feeling very smooth after my shave. This cream doesn't dry out my face like some.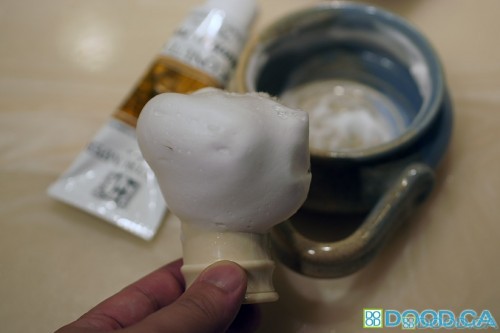 Overall Geo F. Trumper Coconut is a superb shaving cream that will give you plenty of performance and costs a reasonable amount. It does contain parabens, so some people may shy away from it because of that. The Glycerin helps moisturize the skin as does the coconut acid, which is the coconut oil as we all know that coconut oil is great for the skin (and everything else it seems these days!). I personally prefer some of the other GFT Fragrances over the coconut oil, but if you're a fan of coconut you can't go wrong here.
Ingredients: Aqua (water), Stearic Acid, Myristic Acid, Potassium Hydroxide, Coconut Acid, Glycerin, Parfum (fragrance), Triethanolamine, Sodium Hydroxide, Methylparaben, Propylparaben.
Scent: 7/10



Lather: 9/10



Cushion: 9/10



Glide: 9/10



Moisturizing: 8/10



Packaging: 6/10



Value: 6/10



Overall: 8/10


Associated Products Used in This Review: Rudy Vey TGN Finest Brush, Pottersong Shaving Scuttle.