Posted by the dood on Saturday, August 1st, 2015
Art of Shaving Lemon Essential Oil Shaving Cream
Product: Shaving Cream
Size: 75ml
Origin: Made in USA
Street Price: $16.00
Price Per ml: $0.21
Lets get this out of the way first: This is the current, non-tallow version of the Art of Shaving's Lemon Shaving Cream. This is a slightly older one from around when they just removed the tallow, though I do not believe it has changed since then. I've tried the tallow versions of their cream, but have not tried the lemon version so can't compare that one directly. After so many years though, its not likely too many of the tallow creams are still floating around.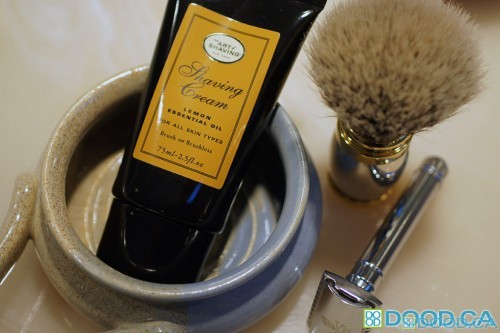 Here it is, and I'm going to lather it up with my TGN Finest 2-Band brush, mounted in a beautiful Joris two-tone stainless Steel and gold-plated brass shaving brush handle, along with my trusty old Edwin Jagger razor.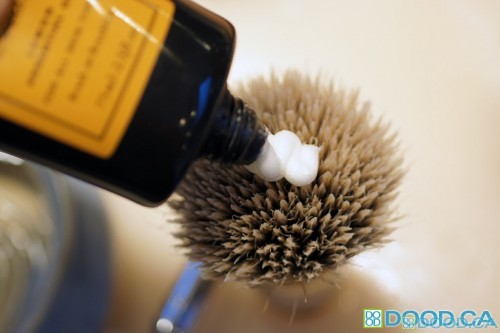 This stuff tends towards the more expensive, though is still pretty reasonable when it comes to a "luxury" good. A tube will last many months, and for the quality of the product is priced very fairly. The cream has a wonderful lemon scent to it, leaning towards the dry side. Its not a sweet lemon drop type of scent, but might hint towards a lemon loaf or lemon meringue pie type of smell.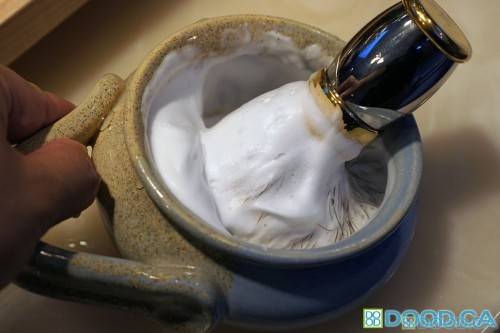 The formula is very moisturizing, and while made in the USA, hearkens to the latherability and performance of the top British creams with its abundance of Coconut Acid and Glycerin. Make no mistake, in all its infamy and Proctor and Gamble ownership, Art of Shaving still makes top-tier shaving products. This stuff is fantastic, and while I do prefer some of their other scents more than the Lemon, it is still very solid and makes some of the most moisturizing and slick lather out there.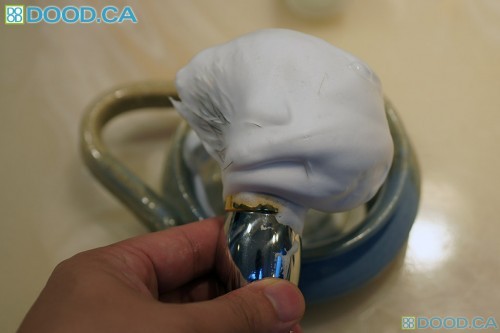 For those of you that do not like Parabens, AoS Lemon Shaving Cream is Parabens-Free, though contains several other preservatives and generally more than most other brands. However, it is some seriously awesome stuff. As you can see from my gratuitous lather-shot, it is a hell of a performer.
In general, the price is solid and the performance is solid – so there really isn't much else I can ask for! Superb cushion, great lather and superior glide make Art of Shaving one of my favourite performing shaving creams out there. While I generally prefer the marketing and style of the British products, I have to admit that this is a very good product.
Ingredients: Water/Aqua, Palmitic Acid, Myristic Acid, Stearic Acid, Potassium Hydroxide, Coconut Acid, Glycerin, Triethanolamine, Sodium Chloride, Citrus Limon (Lemon) Peel Oil, Sodium Hydroxide, Lauric Acid, Propylene Glycol, Tetrasodium Edta, Disodium Edta, Phenoxyethanol, Methylisothiazolinone, Citral, Limonene
Scent: 6/10



Lather: 9/10



Cushion: 9/10



Glide: 9/10



Moisturizing: 8/10



Packaging: 6/10



Value: 8/10



Overall: 9/10


Associated Products Used in This Review: Rudy Vey TGN Finest Brush, Pottersong Shaving Scuttle.