Posted by the dood on Monday, May 20th, 2013
Queen Charlotte Soaps Esquire After Shave Balm
Product: Aftershave
Size: 30ml/1oz
Origin: Handmade in USA
Price: $10.00
I reviewed the Queen Charlotte Soaps Esquire Pre-Shave a few months back, and now I'm back with a review of the ASB (After Shave Balm). If you checked out the pre-shave lotion review, you'll know that I'm a huge fan fo the QCS line of products and have several of their Pre-Shave Lotions, After Shave Balms and Shaving Creams and soaps.
Esquire is my favourite scent from Queen Charlotte Soaps, and is formulated with only Essential Oils, always a plus in my book. In case you didn't tune in for my earlier review on QCS products, they are a small artisan soapmaker from Queen Charlotte, NC in the USA and they make fantastic shaving creams, soaps and other related products.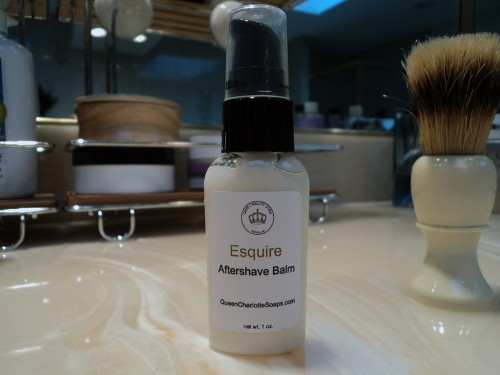 The Aftershave Balm comes in a small 1oz pump bottle with a very plain label. This is actually the old label, as QCS just recently revamped their logo slightly, but I bought this about five months ago prior to the change. The Esquire scent is described as "a complex scent that starts with fresh, clean citrus notes, which are quickly joined by luxurious sandalwood". Its a fantastic scent that in my mind rivals that of some of the classic English shaving companies, and even exceeds many of them. Probably one of my top three scents in all of Shaving. Its definately great for those who are fans of Citrus, but the Sandalwood isn't very strong. There is definately a earthy bass note in there, perhaps some vetiver.
This After Shave balm requires about two pumps to get good coverage on the face, which means the bottle won't last too long. I've had it for about 5 months and I use it in rotation with several other products and its probably 1/3 gone. I wouldn't be surprised if this was all gone in two months if used daily at my rate of use, which makes it quite expensive. But lets be honest here, I have more than enough after shave to last me half a decade… chances are they'll go bad before their finished. This small bottle is probably more practical than a 100ml bottle for three times the price – the price that most other premium ASB's go for.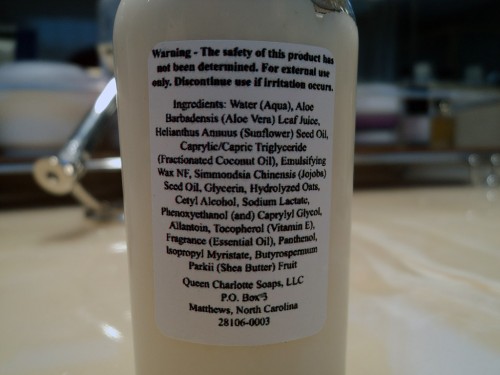 A shot of the ingredient list on the back, which gives you an idea of the base. Good product that gives fantastic moisturizing after a great shave. I love how this Balm leaves my face feeling very smooth, calm and fragrant. Its not a super strong scent, so its not likely that others will smell it on you later, but it lingers just a bit. There is no chill or burn from this ASB, it just calms and moisturizes.
I'm still a huge fan of the Esquire scent and QCS products in general. I use several of their products and enthusiastically recommend them. Happy Shaving!
Score:
Scent: 10/10
Moisturizing: 9/10
Performance: 9/10
Packaging: 6/10
Value: 7/10
Overall: 9/10
Ingredients:
Water (Aqua), Aloe Barbadensis (Aloe Vera) Leaf Juice, Helianthus Annuus (Sunflower) Seed Oil, Caprylic/Capric Triglyceride (Fractionated Coconut Oil), Emulsifying Wax NF, Simmondsia Chinensis (Jojoba) Seed Oil, Glycerin, Hydrolyzed Oats, Cetyl Alcohol, Sodium Lactate, Phenoxyethanol (and) Caprylyl Glycol, Allantoin, Tocopherol (Vitamin E), Fragrance (Essential Oil), Panthenol, Isopropyl Myristate, Butyrospermum Parkii (Shea Butter) Fruit