Posted by the dood on Thursday, May 9th, 2013
Weleda Natural Shaving Cream
Product: Shaving Cream
Size: 75ml/2.5oz
Origin: Made in Germany
Street Price: $9.99
Price Per ml: $0.13
Weleda is a popular Natural Products company based in Germany, and their products are readily available in many of the larger Natural Foods and Products retailers such as Whole Foods. Their Shaving cream is also one of the few natural products companies' Shaving Creams that actually lathers worth a damn and gives a fellow a decent shave! I've tried most of the nautral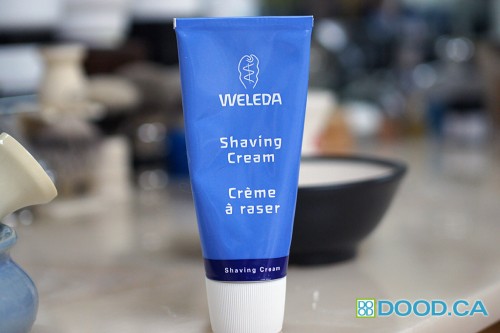 The Weleda shaving cream comes in a metal tube, with an outer box that has ingredients listed as well as an insert that contains instructions and other informations. The packaging is pretty sparse as far as design goes – typical of this German Comapny. Weleda products are all very similar in design, and like most of their other products, the price is very reasonable for a quality natural product that is made in Germany. One thing to keep in mind is that this product only has a shelf life of 9 months after opening.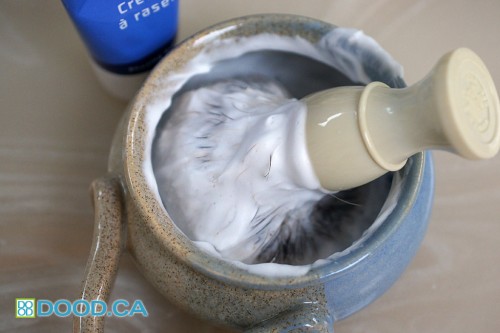 For this review, I whipped up the Weleda Shaving cream in my warmed Pottersong scuttle with my 24mm restored Fuller Brush. Its a great bowl-lathering brush and really does a great job whipping the Weleda Shave cream up. One thing you'll notice about the smell of the Weleda is that its slightly medicinal smelling, but in a sort of new-agey way. It smells of plant and flower extracts, and while not unpleasant, it isn't entirely pleasant either. Lets put it this way, if this scent was a cologne, no one would buy it.
The cream is no slouch, and whips up a decent amount of lather. Its nowhere near the league of the major english creams or even Proraso and the Italian Croaps, but it is more than acceptable and for those looking to use a more natural product, it is a good choice. However, with many of the other major brands producing products that are more and more natural, there may be better options out there depending on your tastes.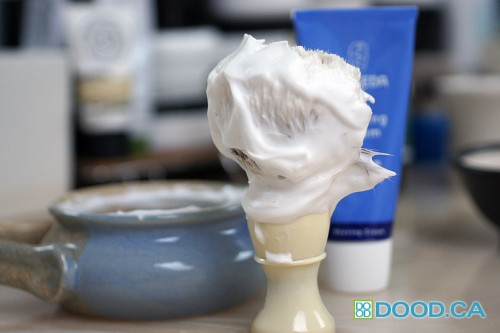 And there she is, fully whipped and ready to do. I got a very good shave from the stuff, but not outstanding. You do need to use a bit more cream than usual, but the lather is thick and stays. The cream isn't quite as moisturizing as I would have liked, and its not the slickest out there, but it was a good shave and I'd be happy to use it again. However, I will not be buying more when it runs out.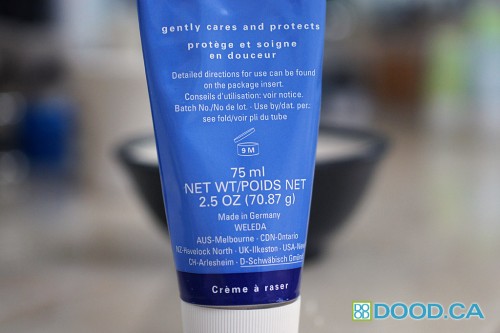 Ingredients: Aqua (Water), Potassium Stearate, Glycerin, Potassium Olivate, Potassium Cocoate, Sodium Stearate, Fragrance (Parfum)*, Viola Tricolor (Pansy) Extract, Prunus Amygdalus Dulcis (Sweet Almond) Fruit Extract, Caprae Lac (Goat Milk), Sodium Olivate, Sodium Cocoate, Sodium Silicate, Magnesium Sulfate, Alcohol, Limonene*, Linalool*, Citronellol*.
* From natural essential oils
The ingredient list is natural and the product does not irritate most skins, which is a good thing for those with sensitive skin. If your skin is not sensitive and you don't care for the natural stuff, Weleda is probably not for you. It is a trade off of scent and performance for a healthy, natural and non-irritating product.
Scent: 5/10
Lather: 6/10
Cushion: 8/10
Glide: 5/10
Moisturizing: 6/10
Packaging: 8/10
Value: 7/10
Overall: 6/10
Associated Products Used in This Review: Restored Fuller Shaving Brush with Ace Shaving Extra Density 24mm Silvertip Knot, Pottersong Shaving Mug.