Posted by the dood on Wednesday, May 1st, 2013
Pacific Shaving Company All Natural Shaving Oil
Product: (Pre) Shaving Oil
Size: 0.5oz
Origin: Made in USA
Street Price: $6.95
Pacific Shaving Company's All Natural Shaving Oil is sold as either a Pre-Shave oil or a Shaving Oil to replace Shaving Creams and Soaps. Since we're all lather-freaks here, our interest in this product is solely as a Pre-Shave Oil, which it does a good job of. It has a mild citrus scent, but you really don't notice it in use.. its almost odourless considering the amount you use. The package says "Up to 100 Shaves", which I haven't exhausted yet, but seems like a lot of shaves for such a tiny bottle. It also comes in a 2oz bottle that costs more, but is a slightly better value.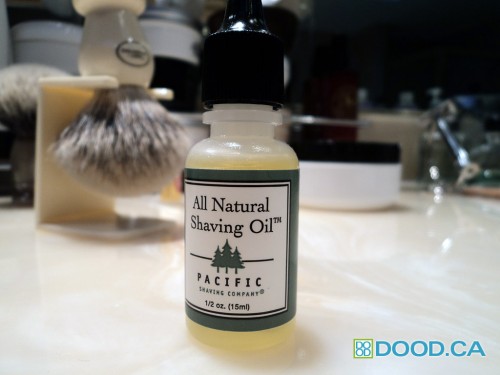 Like all of the products from Pacific Shaving, the ingredients are "all natural", which means they come from natural sources, not necessarily that they're good for you. Like all products, you should research the ingredients and decide whether you are okay with them. The Pacific Shaving Company's All Natural Shaving Oil works for me, and I'm okay with the ingredients and use it happily. The oil blend in this stuff is actually pretty darn effective too. Its not quite as sticky as some of the other oils I've used, that seem to clog up razors and stuff. There must be an emulsifier that allows the oil to come off the face more easily than some other pre shave oils I've used.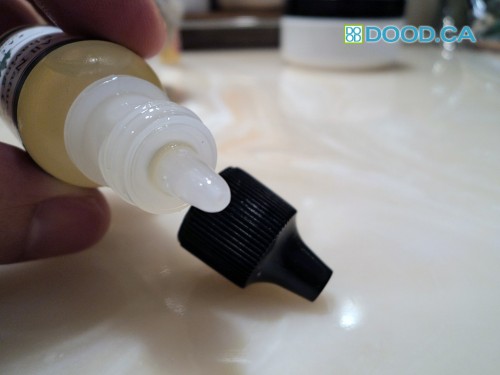 The bottle has a dropper tip that lets you easily squeeze a drop or two into your hand and spread it on your face, and that's all you need. Pretty easy to use, and doesn't make a mess. One of the things that I do find a bit annoying about pre-shave oils in general is that my hands get all oily after I apply them, and it makes my hand slippery when I'm building lather or shaving. I do find that I have to give it a good scrub with some soap to get rid of it after. This product tends to be easier to get off than other oils for whatever reason so that's good.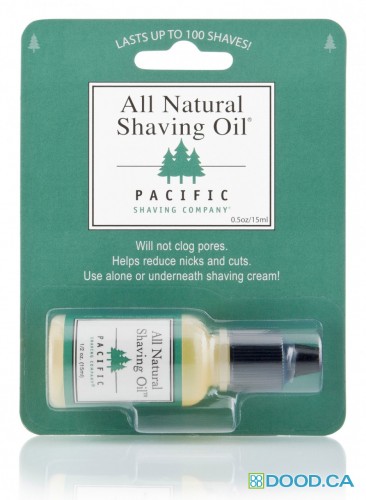 Overall its an okay product, but since I generally prefer pre-shave lotions and creams over oils, it isn't for me. So this would probably boil down to personal preference. Compared with other pre-shave oils, I do like this product because it seems less oily in use. It does give a nice slickness and seems to help achieve a closer shave in the end, though my favourite pre-shave, from Edwin Jagger, is still tops for performance, feel and scent.
Here's the Ingredients:
Helianthus Annuus (Sunflower) Seed Oil, Coco-Caprylate/Caprate (Plant Derived), Sorbitan Oleate (Plant Derived), Polysorbate-20 (Coconut Derived), Citrus Aurantium Bergamia (Bergamot) Fruit Oil, Persea Gratissima (Avocado) Oil, Limnanthes Alba (Meadowfoam) Seed Oil, Cucumis Sativus (Cucumber) Fruit Extract, Aloe Barbadensis (Aloe Vera) Leaf Juice, Aleurites Moluccana Seed (Kukui Nut) Oil, Tocopherol (Vitamin E), Citrus Tangerina (Tangerine) Peel Oil, Menthol (Analgesic), Citrus Grandis (Grapefruit) Peel Oil.
My Rating
Scent: 6/10
Performance: 8/10
Packaging: 6/10
Value: 7/10
Overall: 7/10