Posted by the dood on Friday, June 7th, 2013
I had reviewed the Ace Shaving Extra Density Silvertip knot a couple months ago, and picked up a few of the Best Badgers in 21.5mm based on someone's recommendation on a forum. Given that these knots are relatively inexpensive, I wasn't expecting much, and to be honest, I didn't get much. Yes, these are decent knots for the money, but are they giant-killers like the TGN Finest? Hardly. Since they only come in threes from Ace Shaving, I was stuck with three of them. I set one in a brush for myself, set another one in a Whipped Dog handle for a friend of mine, and have another one tucked away for a rainy day I guess.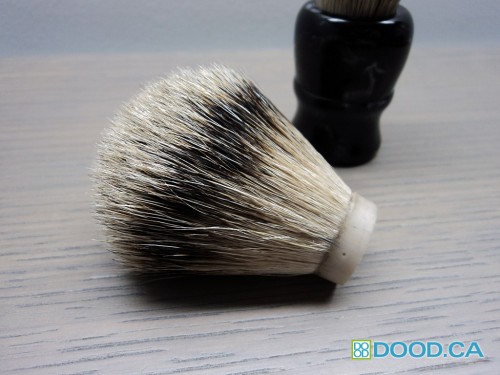 Not saying that this is a bad knot at all, but when you've got as many brushes as I do, its hard to find a good, compelling reason to use this brush over most of my other brushes. It appears at first look to be similar to the TGN Best Badger hair, and similar to the Edwin Jagger Best Badger grade as well. However, in use, it feels quite different. This is one of the most prickly badger hair brushes I've ever used. It reminds me a bit of my Omega black badger hair brush, but with less backbone.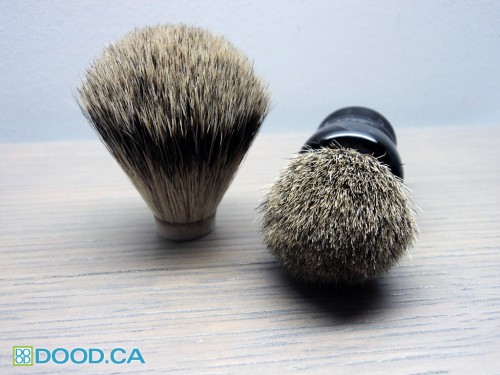 As you can see, the knot is a mix of banded and grey hairs, with some naturally terminating but mostly trimmed hairs. The trimmed hairs are the culprit here for creating such a prickly, scritchy brush. I personally don't mind a little bit of scritch, but this brush is almost unusable for me unless I do nothing but paintbrush strokes. That's unfortunate since I set the brush quite low for the purpose of face lathering. And even set that low, it doesn't have too much backbone. I ended up setting a second one for my friend 2mm lower to around 41mm and its seems to have improved backbone. The brush shown in the photos is the aforementioned brush I made for my friend. I drilled out the Whipped Dog handle and got it set nice and low.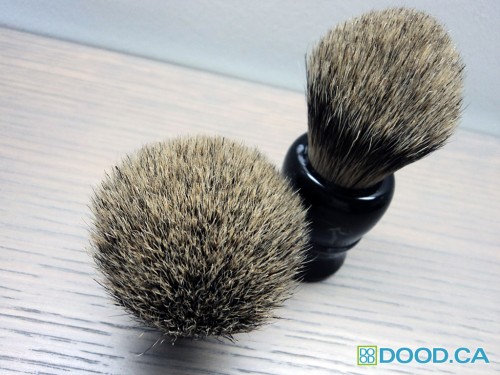 A top down shot to give you a sense of the density of the brush. Its sort of a medium density, or average density if you will. Certainly not as dense as the Extra Hair Silvertip from Ace Shaving or any of the TGN knots for that matter. This brush knot was a bit of a disappointment because I was expecting so much more given the large amount of praise from a couple of the members on the forum. Perhaps they like scritch more than I do. One thing this brush does a great job with is flow through. It paints the lather on no problem and gives it up if you need it. Overall I would considering it an acceptable knot and probably comparable to big name entry level badger brushes, but nothing special. If these were available as a single purchase for 1/3 the price, I would recommend for a casual shaver that just needs something that works. For enthusiasts, I think there are better options out there.
Ace Shaving Best Badger Knot Specs and Rating:
Softness: 4
Scratchy
Soft
Backbone: 5
Floppy
Strong
Scrub: 4
Gentle
Scrubby
Density: 4
Sparse
Dense
Hair Thickness: 6
Thin
Thick
Flow-Through: 8
Lather Hog
Lather Giver