Posted by the dood on Monday, June 3rd, 2013
Proraso Eucalyptus and Menthol Shaving Cream
Product: Shaving Cream
Size: 150ml
Origin: Made in Italy
Street Price: $9.99
Price Per ml: $0.07
Proraso Green Eucalyptus and Menthol Shaving Cream is probably one of the most iconic shaving creams in all of shavedom, not to mention one of the top Shaving Creams from Italy altogether. This shave cream has probably been reviewed a multitude of times, and I have tried not to read other Reviews prior to writing this in order to keep my thoughts my own and unaffected by others' opinions. My experience is positive, and comes after using the shave cream about 50 times over the course of about six months. This review is of the new current formulation that is SLS and paraben free.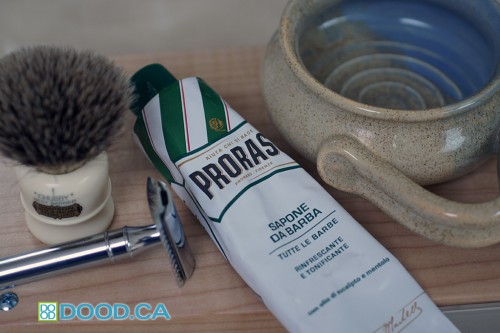 For the photo shoot shave, I decided to use my Simpson Chubby CH1 brush, along with a Pottersong Shaving Mug and the Bluebeards Revenge Scimitar DE Razor. I typically do an actual shave on my reviews, and this is what I used this time around. I don't usually bowl lather my chubby, but for a shaving cream review photo shoot, its more effective at showing the lather generation. Proraso Shaving cream comes in a metal tube, resembling toothpaste, and holds 150ml in the full size tube.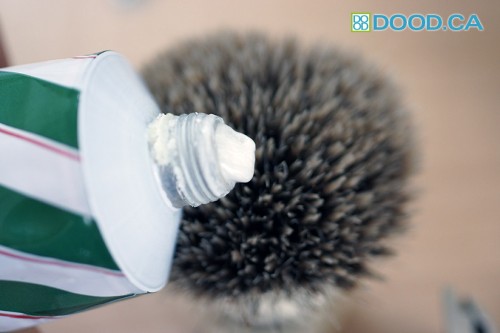 Please excuse the dried up Proraso crud that built up along the edge of the tube, but it usually happens to most creams anyway. I just forgot to clean it up before the shoot! Its more authentic this way anyway, right? The scent of the Proraso Green is sort of a Menthol, mixed with a fresh clean smell. Its got a hint of Eucalyptus, but I wouldn't say its pure menthol and eucalyptus scent. Its very refreshing and a fantastic summer scent and experience overall.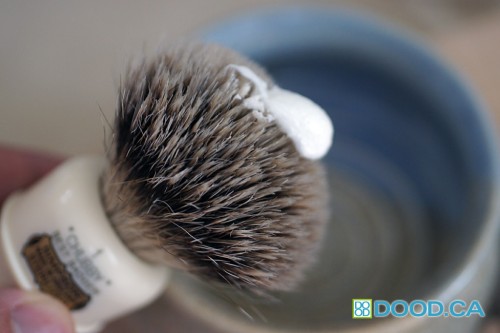 I used about a small almonds worth of shaving cream in this example, and that generated enough lather for two passes, even with this lather hogging Simpsons Chubby CH1. While the Proraso doesn't generate quite as much lather as the popular English creams like the 3T's (Trumpers, T&H and Tobs). It does lather up quickly, and creates a very slick lather. Its not quite as cushiony as the English stuff, but I find it plenty good for me.
While the scent and menthol kick is great to me, its probably not for everyone. Some people with very sensitive skin find the menthol a bit overwhelming, because the feeling after shaving with Proraso Green is often described as "Face Freeze". I am a huge fan of menthol in general, even outside of the summer months. The tingling and refreshing feeling I get after a Proraso Green shave is awesome!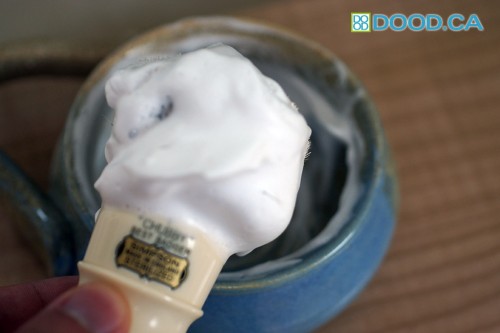 Here's the Chubby loaded up with lather after working it for roughly 30 seconds in my Pottersong shaving mug. The mug helps greatly with speeding up lather production so my arms are less tired and I can spend more energy on actual shaving. Proraso Green has average moisturizing, nothing spectacular but my face doesn't feel dry afterwards. It is just such a fantastic performer in so many ways that I find myself grabbing it when I want a satisfying shave quite often. The excellent lather production, refreshing scent and feel, great value and superb glide it gives really does make it a stand out product in the cluttered Shaving Cream space. I highly recommend it!
Here are the SLS and Paraben-Free ingredients, which still contain a fair bit of unpronounceables including some ingredients which are considered risky if you're an all-natural kind of shaver.
Ingredients: Aqua, Stearic Acid, Cocos nucifera Oil, Potassium Hydroxide, Glycerin, Lactic Acid, Sodium Hydroxide, Sodium Lauroyl Sarcosinate, Menthol, Camphor, Eucalyptol, Eucalyptus globulus Leaf Oil, Pentaerythriytyl Tetra-di-t-butyl Hydroxyhydrocinnamate, Sodium Metasilicate, Tetrasodium EDTA, Hydorixyethylcellulose, Sodium Hyrdoxymethylglycinate, Geraniol, Parfum
Scent: 7/10



Lather: 8/10



Cushion: 9/10



Glide: 8/10



Moisturizing: 7/10



Packaging: 7/10



Value: 10/10



Overall: 9/10


Associated Products Used in This Review: Simpson Chubby CH1 Brush, Pottersong Shaving Mug, Bluebeards Revenge Scimitar Razor.