Posted by the dood on Friday, June 14th, 2013
Taylor of Old Bonds Street Jerymn Street Shaving Cream
Product: Shaving Cream
Size: 150g
Origin: Made in England
Street Price: $15.99
Price Per g: $0.11
Taylor of Old Bonds Street, or TOBS, as it is endeariningly called on the online forums, is probably the most popular of the English shaving creams on the market. On Fendrihan's, the Canadian men's grooming goods e-tailer, listing shaving creams in order of the most popular reveals that four of the top eight best selling creams are from TOBS. Now, that might not be reflective of the entire world, but its certainly enough to get an idea of its popularity.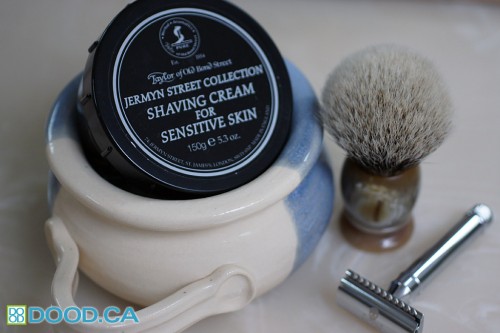 For this shave review shoot, I decided to whip up the cream with my Kimson Genuine Horn Handled Brush that I mounted a TGN Finest 24mm knot in. I used a Pottersong Shaving Scuttle, which I filled with hot water to get a nice warm lather. TOBS creams are so rich in lather that they work great in hot, warm or cold water. I'll be using my Bluebeard's Revenge Scimitar DE razor with this shave as well, which is identical to the Edwin Jagger DE98 razors.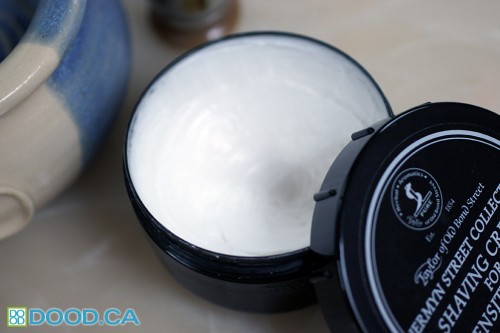 The Jermyn Streetn Shaving Cream is one of the "sensitive skin" formulations of shaving cream from TOBS, and has a slightly different ingredient list. It has less chemicals in it, no coloring agents and also costs slightly more than their normal creams. It performs fantastic just like their regular creams do, though does have a slightly different feel to it. The 150g tub lasts quite a while because you really don't need much cream to get a three-pass shave.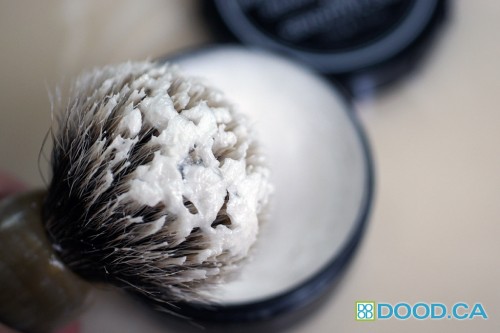 A quick, medium pressure swirl on the surface gets a good amount of cream on the brush, I think I took a little bit too much on this one, but the more the merrier. Like most of you, I have enough shaving cream to last me a decade and most of it will expire long before I finish using it. Speaking of expiry, the TOBS tubs all have the Good for 12 Months after opening labelling on it, which means that its should be used up within 12 months of opening.
The scent is hard to describe. Tobs calls it "bergamot, lemon, lime and lavender supported by a heart of geranium, neroli and amber resting on a substantive base of musk, patchouli and vanilla" I suppose that's accurate, it is a complex cologne type of scent that's quite rich and warm, without being too strong. I wouldn't call it an everyday scent for myself, but its quite pleasant.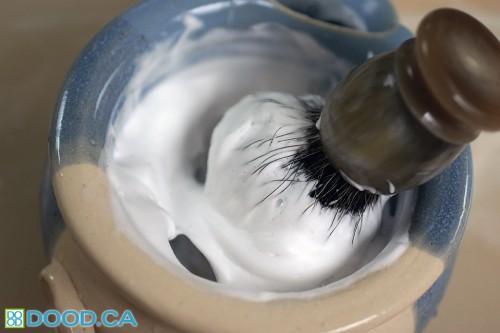 Jermyn Street from TOBS lathers like a champ, even in a hot shaving scuttle, and is possibly the easiest shaving cream I have ever lathered. The lather is rich, and creamy… possibly slightly too rich for my tastes and it actually interferes a bit with razor glide. This cream isn't quite as thick as Proraso, but it lathers more easily and has more cushion. Also, the Tobs tub is an excellent vessel for dispensing cream.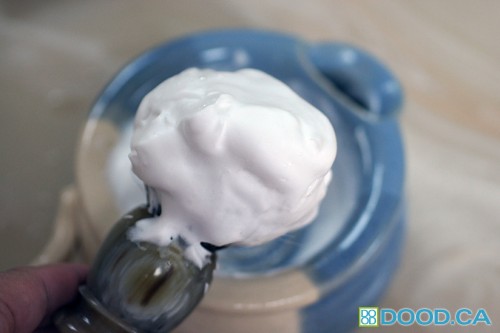 There's a nice lather shot of my brush, showing the nice rich lather achieved. Probably whipped up enough lather for four passes, thought I rarely do more than three passes. Overall this is an incredible shaving cream, and amongst the best. Its not the most moisturizing cream, but it has a great scent, and lathers like no other cream I have used. The cream is a bit thick for me, but it is easy to lather and quite effortless to use. Making it a good cream for those with difficult water conditions or those days when you just don't want to try too hard!
Ingredients: Water, Stearic Acid, Myristic Acid, Potassium Hydroxide, Coconut Acid, Glycerin, Triethanolamine, Theobroma Cocoa Seed Butter, Parfum, Sodium Hrdoxide, Bisabolol
Scent: 8/10



Lather: 10/10



Cushion: 10/10



Glide: 6/10



Moisturizing: 6/10



Packaging: 7/10



Value: 9/10



Overall: 9/10


Associated Products Used in This Review: Kimson And TGN Finest Brush, Pottersong Shaving Scuttle, Bluebeards Revenge Scimitar Razor.