Posted by the dood on Sunday, June 30th, 2013
Origins Blade Runner Shave Cream
Product: Shaving Cream
Size: 150ml
Origin: Made in USA
Street Price: $16.00
Price Per ml: $0.11
Origins mid to high end cosmetics brand that is part of the Estee Lauder empire. Their products are known to use natural plant extracts and natural ingredients as opposed to the more synthetic ingredients of their competitors. Origins also has a decent Men's line of products, which my wife introduced me to. One of the better products is the Origins Blade Runner Shaving Cream.. remember folks, this is a BRUSHLESS shaving cream! Not a lathering cream that most of us shaving enthusiasts are interested in. On the flip side, this stuff makes a GREAT pre-shave cream, which means it does double duty in my books.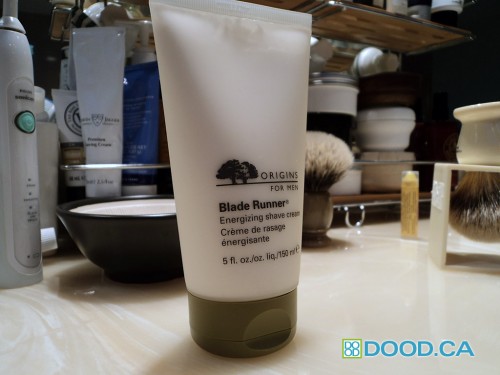 Origins Blade Runner comes in a typical plastic tube that many similar products come in such as the creams from The Real Shaving Company, etc. No outer box with this one. I only use this product very occasionally while at home, because I, like the good shaving enthusiast I am, prefer lathering shaving creams and soaps. But on a recent one-week cruise vacation, I decided to give this stuff a whirl because the tiny bathrooms in a cruisehip stateroom might making bringing a brush and lathering more difficult. Turns out it was a great idea – I looked forward to my daily shave even without lather. The stuff has a great smell to it (at least to me!), a sort of medicinal peppermint smell, which might not be to everyone's taste. Blade Runner is also very slick, and works well with a DE Safety Razor in addition to Cartridge Razors. I do not use a straight so I cannot comment on that.
Additionally, Origins Blade Runner works fantastic as a pre-shave cream so it is in my regular pre-shave rotation along with some great stuff like Edwin Jagger Preshave and Proraso White Pre-Shave. This stuff holds its own against some of the best pre-shave creams on the market.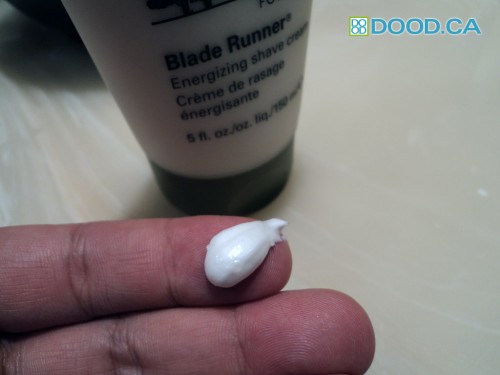 Blade Runner is pretty concentrated feeling, meaning you don't need to use that much. I generally use about half as much Blade Runner as I would use of a normal lathering Shaving Cream. That means that at $16 a tube, its actually a pretty good deal. The consistency is very much like that of regular shaving cream in a tube, maybe slightly thicker. It spreads easily onto a moist face and from there you can go straight to shave or starting lathering up your shaving cream. I love smelling the peppermint while I am prepping my cream.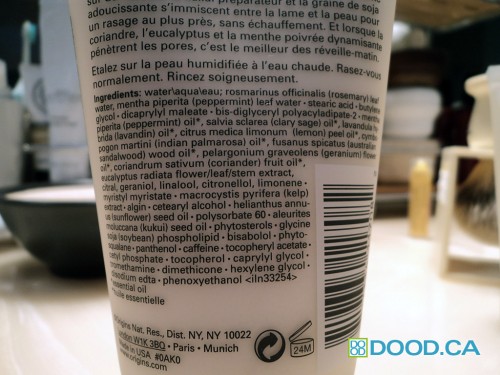 Here's a shot of the ingredient list. It was WAYYY too long so I wasn't going to type it out – you'll have to scan it for ingredients yourself! Sorry. At least I provided and ingredient list. I even googled for one, but couldn't find one listed anywhere. You'll notice that the list has plenty of chemical sounding stuff that really isn't that good for you, so it makes you wonder how "natural" the stuff really is. I'm guessing all that stuff also helps make this cream last 24 months, double what most other creams are supposed to last! Well, at least they tell us its safe to use, right
Hope this was useful, and hope you guys enjoyed the review. Origins Blade Runner is a multi-purpose product that does what it does very well, so long as you're not expecting lather. It outperforms other brushless shaving creams such as Kiehl's and drugstore stuff that I have used, and as a Pre-Shave or a Shaving cream, the price is very good.
Scent: 7/10



Lather: 1/10



Cushion: 1/10



Glide: 8/10



Moisturizing: 6/10



Packaging: 7/10



Value: 8/10



Overall: 7/10