Posted by the dood on Sunday, April 22nd, 2007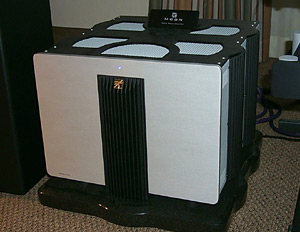 What a massive unit. The SimAudio Moon Rock is a helluva behemoth. 220lbs and $18,500 each. This is one absolutely insane peice of equipment. I listened to a pair of them while visiting a friend in Toronto, and was pretty impressed with them. If I had $20K I might even consider buying a pair of them used!
I've listened to a lot of SimAudio preamps and amps, and currently use a Linar Audio Pre-2, which is designed by Victor Sima, the founder of SimAudio. It follows the same basic fundamentals, low noise, amazing detail, tight quick bass, and resistor array volume control. I love the sound of it. The Moon Rock is pretty much the ultimate monoblock amplifier to me! Kicks my Odyssey Extreme Monos, and the Odyssey's are pretty amazing amps!