Posted by the dood on Monday, November 12th, 2007
I have started to become a clothing label whore. I used to be many many years ago, but kind of toned down my spending and concentrated on much more constructive hobbies such as knife collecting and swiss made automatic watches, but now the clothing bug has hit me hard again… and in a much more agressive way. Gone are the days of Gap and American Eagle.
Brands that I have become extremely addicted to include Christian Audigier, Affliction, Armani Exchange, Energie and True Religion. I am not a rich man, but this weekend, in addition to buying the lady a $400 wool and cashmere jacket from Aritzia, I bought an Affliction shirt, Affliction polo, Armani Exchange shirt and Aldo Shoes – That's a lot of money for me! If I did not buy her the Jacket, I would have ended up buying the Christian Audigier Gold Vines hoody from Boys'Co…. I am still regretting not buying it, but at around $375 after taxes, it was probably best left at the store.
Just to give you a taste of what we're talking about here: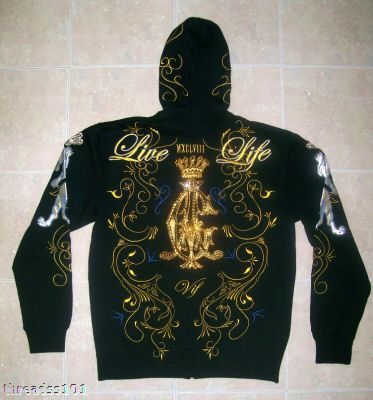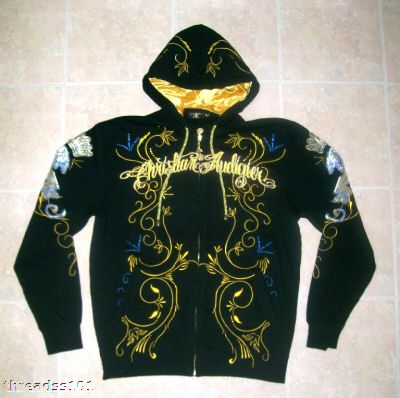 Is that hoodie not absolutely HOT? One downside is that you might be mistaken for a drug dealer. Embroidered Vines along the whole thing, rhinestones ont he back CA logo, and some crazy stuff going on the sleeves makes for a hell of a crazy hoody.
I was at Coi Clothing in Nanaimo here, and they got some new Ed Hardy stuff in. I like a lot of Ed Hardy's stuff, but this one didn't have me completely.. it was a Cashmere and Wool hoody in black with the Don Ed Hardy Tiger on the back. Made in China… for $450. Nice, but didn't quite hit me like the other hoodie, and cost more.
*sigh*
At least the Affliction Shirts were only $80-100 each 🙂
I think I might need to pay a visit to ebay…