Posted by the dood on Sunday, March 9th, 2008
This is an amazing CD player.
I have heard a lot of CD Players in my time on my system, but this is the first one to literally open it up to an entirely new level of performance. Granted this is probably the most expensive CD Player I have ever had in my system, next to perhaps a Krell that belongs to a friend of mine. His Krell sounded fantastic, but I didn't listen to it long enough to realize the amount of impact it really had, while the Bel Canto CD-1 really did blow me away right from the get-go.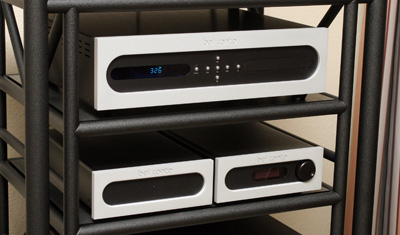 Its a front-loading player, with a retail price of $5000. It uses a Phillips Transport, with a Custom Low-Jitter clock. Several separate multi-stage power supplies, and the DAC is performed by a PCM1792 chip from Burr Brown. Not a lot of info was to be found, and I don't feel like cracking open the case to see. Outputs and inputs are both Balanced and Unbalanced… I've been using the Balanced and I enjoy the performance of it. This is an extremely transparent player and presents and extremeley holographic soundstage.
The CD-1 has been replaced by the new CD-2, which is a smaller half-size unit that uses the Phillips top-loading transport, and is something of a digital turntable in it's design. As for the sonic improvement (if any), I have not heard it yet so I cannot comment.