Posted by the dood on Thursday, October 1st, 2009
I guess technically its a cookie bar, but who cares. It looks Tasty.
Just stumbledupon a blog called Picky Palate. This girl (who's a mom, and pretty darn gorgeous – heck possibly even hottie of the moment material), creates her own recipes and releases them on this website, which I am assuming is her job since she quit being a dental hygenist. This is the perfect kind of job for many moms, able to take care of the kids and work at home doing something they love! I don't know how many of my friend's wives would love to do that, but they lack the motivation and creativity. Not with Jenny. This girl Makes the most delicious looking treats… if my wife and I made them all to eat, we'd get so fat, but its almost worth it.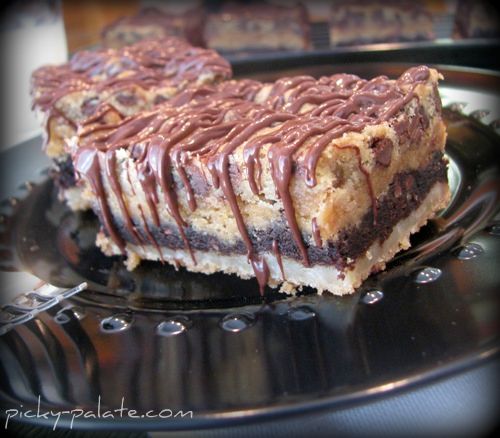 The recipe that caught my eye is the "Mother Load Layered Cookie Bar". This cookie has 4 layers, Chocolate Chip, Peanut Butter, Chocolate and Sugar – then the whole thing is drizzled in chocolate. Damn tasty is what it is.
This girl has won tons of cooking competitions and whatnot on foodnetwork and all over the place over the last few years, so she knows what she's doing. This is a guys site, but damn I do love my pastries and cookies, so I just couldn't resist posting this!