Posted by the dood on Wednesday, October 21st, 2009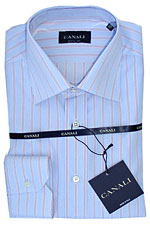 There are so many different definitions of quality, so this will be a subjective article. Many people will consider that DKNY or Calvin Klein dress shirts are quality, and while they are well-made shirts that will last you quite a while, they are not a top quality shirt, and are simply the entry level all-cotton shirt. I will say that they are at least 100% Cotton.
Here are a few of the factors that I use to determine the level of quality of the shirt:
1. 100% Cotton – This is the basic requirement. Sometimes fashion houses will use some sort of Cotton blended with a few percent of spandex or something synthetic to make a stretch shirt. This is acceptable but I still prefer the 100% Cotton shirt. The best quality dress shirts are always made from 100% Cotton. This can go a bit further by defining the threadcount with 80s, 100s or 200s, and sometimes with descriptions such as 2-ply broadcloth.
I find the best quality cotton fabrics tend to have a softness to them, and are less course and "crisp". When bunched together they have a bit of spring to them. The biggest factor is the feel, however. Something like feeling the difference between cheap bedding and good bedding.
Examples of Entry Level Cotton: DKNY, Joseph Aboud, BCBG, Black Brown, Calvin Klein, Bill Blass.
Examples of Mid-Premium Cotton: Canali, Boss, Armani, Etro, Isaia, Kiton, Brioni
2. Stitch Density – Measure the stitches in the seems to see how many stitches you get per inch. The highest quality shirts have at least 20 stitches per inch. This is an often overlooked and unknown characteristic of high-quality shirts. Once you know this one you will be able to spot the difference between a Bay Dress Shirt and a Harry Rosen. Typical dress shirts are stitched at 14 stitches per inch.
Examples of 20+ Stitch Shirts: Polo Ralph Lauren, Ralph Lauren Blue and Black Labels, Harry Lipson, Thomas Pink.
3. Mother-of-Pearl Buttons – This is one separates the luxury shirts from the semi-luxury shirts. Many high quality shirts are made from quality cottons and stitched well, but the MOP Buttons are the crowning touch. Additionally, the thickness of the Mother-of-Pearl also determines the quality. The thicker the buttons the priceier the shirts usually are, with the thickest buttons often using stacked Mother of pearl.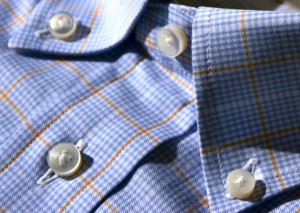 Examples of Mother-of-Pearl Button Shirts: Ralph Lauren Purple Label, Kiton, Brioni, Canali, Armani Collezioni, Fendi, D&G, Prada.
4. Horizontal Bottom Button – This one is pretty obvious, but the last button should be sewn horizontally to reduce stress on the button.
5. Sleeve Placket Button – The sleeve should have a placket button to keep the placket closed when you are wearing it. Some plackets are shorter, and thus when made customers elect not to have one put in. This is common with MTM shirts.
6. Pattern-Matching – While not entirely possibly throughout the whole garment, it is possible to line up the sleeves with the shoulder seam. Most decent shirts will be at least partially lined up at this seam.
7. Removable Collar Stays – No exception here, good shirts should always have removable collar stays.
8. Pocket Top-Fold – If your dress shirt has a pocket, the pocket may or may not have a top-fold. If the top is folded behind the pocket and sewn, then it does not have a Top-Fold. However, if the top is folded forward, creating a thicker edging then it is more costly to make and looks fancier like this Canali here: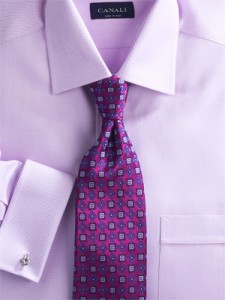 Examples of shirts with Top-Folds: Kiton, Canali, Borelli, Isaia.
Summary
Hope these tips help you in deciding what kinds of shirts are better quality. It also helps for spotting others wearing shirts to see if they are well made. Some guys buy a nice suit then cheap out on the shirt!