Posted by the dood on Friday, September 17th, 2010
This is like almost straight out of a Sci-Fi movie.. Reminds me a bit of that movie Gamer with Gerard Butler. You log on from your computer or even your iPhone, and you control Paintball Guns, Shockers or RC Cars and try and take out one of several people living inside a warehouse in LA.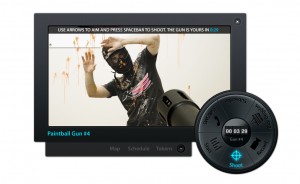 Yes. For real.
It only gets more intense from here. I wonder what's next?
Check it:
http://prankhouse.com/