Posted by the dood on Monday, January 10th, 2011
The Blackest Lotus of them all: The Alpha Black Lotus, BGS graded a 9.5, which is extremely high for a card. Also, a JSA 10 grade given to Christopher Rush's signature on the card.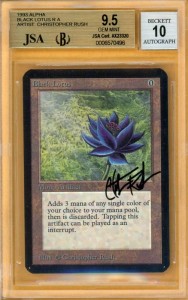 Can you freaking believe this?? One of those cards that we used to play as kids, little geeks that we were (still are), and now its selling for OVER $100,000 on ebay?!?!?