Posted by the dood on Sunday, April 17th, 2011
Wow, I used to have a lot of respect for Jonathan Toews as a Canadian player who is incredibly intelligent and classy, but I just realized that its only because he's been playing on a winning franchise. Take away the wins and the guy is a sore loser who whines and complains, and obviously thinks he is better than he is. Without his support guys from before, he's just another chump.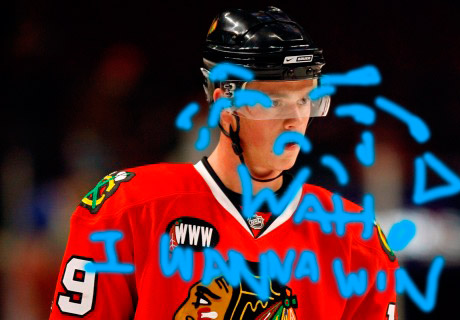 Talking about the Vancouver Canucks after losing three straigh in the playoffs to them, Toews says "Everyone looks too much at the stats and talks about what a good team they have, we want to expose them for what they really are. People outside this room give them too much credit."
That's rather humorous since they can't seem to beat them. Talks cheap. When Chicago has been playing well because of all the other players around Toews, like they did last season when they won the Stanley Cup, he's alright, but now he's a sore loser that is finally coming to terms with the fact that he might not have been the reason they won the cup. Toews is coming to a realization that he has been exposed for what he is. Bunch of sore losers.. Chicago Cockhocks.