Posted by the dood on Friday, May 24th, 2013
The TGN Super Badger was actually the first knot I had actually purchased from The Golden Nib. While I saw the numerous amounts of posts promoting and lauding the TGN Finest 2-Band Badger Knot, I decided I wanted a 3-Band knot for myself, and being a bit of a contrarian (but not a hipster) I decided to buy the Super Badger in a 26mm size. The Super Badger is described by The Golden Nib to be a treated silvertip knot, which makes the tips whiter and softer than a typical silvertip. Lets see how it stacks up.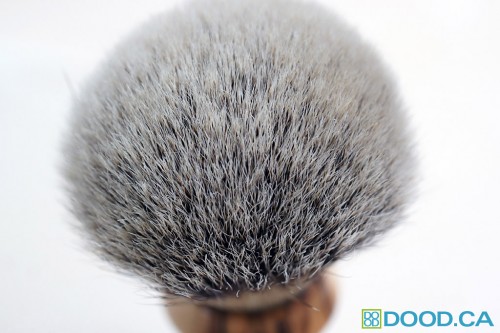 Since it was my first TGN knot, I didn't really have anything to compare it to at first, besides the various bigger brand shaving brushes I had purchased before, which were all quite different. Now that I have a lot more brushes and experience, I can share my thoughts a little bit better. This is not simply a "treated" version of the standard TGN Silvertip, which is not a very good knot. This Super Badger is a significantly different animal than the regular silvertip, and more closely resembles TGN's Silvertip Grade A knot, with slightly less soft tips. The TGN Super Badger is a very densely packed knot, with very white tips that are quite robust. This knot is not as fragile as the Silvertip Grade A.
As you can see, all naturally terminating tips but they're very white and treated. The knot has good backbone and "spring" to it, so it lathers soap very well. It has "okay" flow-through, but my super badger is a 26mm knot, it requires a LOT of lather so its a bit harder for me to judge compared with my others which are all in 20-24mm size. The tips aren't hooked, so they don't develop those gel-like tips that many really love and look for. That makes this knot slightly less soft feeling in my books, but very tough to tell the difference on the face. When hand-lathering I detect a slightly less "slick" feeling when brushing the lather on because it doesn't gel at the tips – that's it. Otherwise a great soft brush knot with decent backbone.
TGN Super Badger Knot Specs and Rating:
Softness: 8
Scratchy
Soft
Backbone: 7
Floppy
Strong
Scrub: 6
Gentle
Scrubby
Density: 7
Sparse
Dense
Hair Thickness: 5
Thin
Thick
Flow-Through: 6
Lather Hog
Lather Giver


Click here to see a list of all TGN Knot Reviews here.