Posted by the dood on Saturday, July 20th, 2013
D.R. Harris Arlington After Shave Splash
Product: After Shave Splash
Size: 100ml
Origin: Made in UK
Price: $33.00
D.R. Harris is one of the old English brands, established in 1790 and still around today. They're style is a mix of apothecary and old time English style kind of similar to Penhaligon's but much cheaper. Arlington is one of their most popular scents, and once I tried the shaving cream, I knew I had to buy the after shave too. I own the cream, after shave and the cologne – I would own the soap too if I didn't already have two tubs of the cream! They also make a shower gel and some other body cleansing products.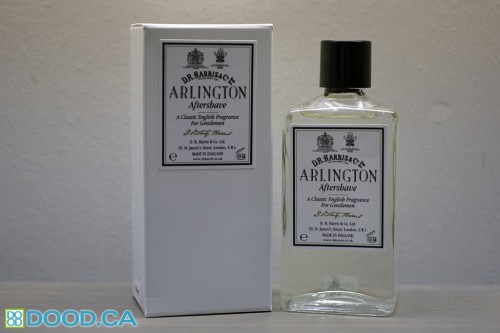 D.R. Harris after shaves come in cool rectangular glass bottles, with great labels that feature D.R. Harris' vintage style labeling. The bottles come in a thin cardboard box with a D.R. Harris label stuck onto it. They aren't the most elaborate packaging out there, but I do like the style of the bottles and labels. They suit my tastes.
The scent is a citrus and fern type of combination, and in my opinion smells fantastic. Most people have commented that their wives and girlfriends like the scent, but oddly my wife does not at all. Its too bad because I love it and I wear it often. The fern scent is definitely the predominant scent that lingers, what I guess would be called the basenote.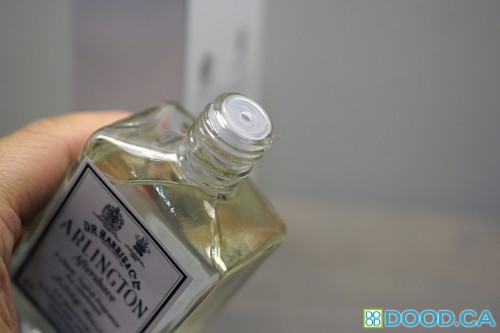 The bottle has a plastic reducer, which is perfect for shaking out the product. I use about 3-4 shakes every time I use it, and its a good amount for me. The product is supposed to be used within 12 months of opening it, which is not easy when you have as many after shaves as me. I tend to only use splashes during the summer and hotter times of the year, because in the winter I need more moisturizing that a balm can provide. A 100ml bottle can last me 3 years! I've had lots of after shave splashes for several years, and they all seem okay, though the smell can change.
While splashes are not as moisturizing as balms, most of the better splashes out there don't leave my skin feeling dry, even if they have alcohol in them like D.R. Harris does. This is due to the addition of Glycerin in it I believe. The menthol in this splash gives an extra bit of tingle and burn which is nice and refreshing in the summer particularly.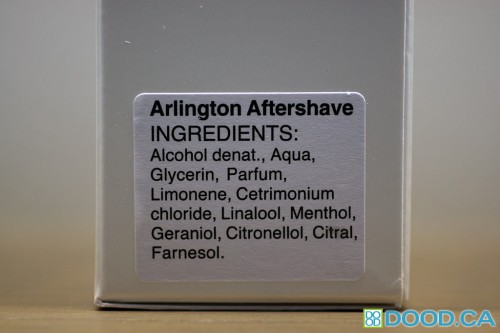 Here's a shot of the ingredient list, which I have also typed out below. Overall this is a great after shave splash, with some moisturizing ability that also gives a nice refreshing feeling after application. I really love this splash and its definitely my go-to product during the hot days. Highly recommended.
Scent: 10/10



Moisturizing: 6/10



Performance: 9/10



Packaging: 8/10



Value: 6/10



Overall: 9/10


Ingredients:
Alcohol denat., Aqua, Glycerin, Parfum, Limonene, Cetrimonium chloride, Linalool, Menthol, Geraniol, Citronellol, Citral, Farnesol