Posted by the dood on Sunday, August 18th, 2013
Sandalwood is one of my favourite scents, bar none. I love the rich, woody scent and unlike other commons scents like Lime, for example, Sandalwood can vary so widely from one brand to another that they don't even smell like remotely the same scent. My first experience with sandalwood was with sandalwood essential oils when I used to try mixing my own blends of scents. I always remembered the deep woody scent that had a hint of almost butter to it. Most companies blend their own fragrance and essential oils with sandalwood to achieve a more pleasant scent. I've broken down my analysis of various products of Sandalwood here for you.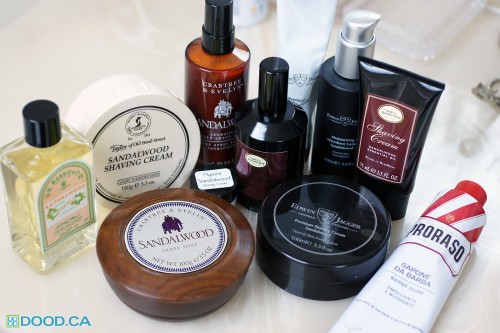 I took a shot of some of my current Sandalwood products, but have also used others like Truefitt and Hill and Mystic Waters which I have given away because they didn't agree with me. Here's my take on Sandalwood… I have rated the scents based on a combination of strength and overall quality of scent.:
Art of Shaving Sandalwood
I have used both the Shaving Cream and the Eau de Toilette, and both have a very similar scent profile. Many refer to this as the gold standard for Sandalwood scents as it is true to the original Mysore Sandalwood and adds a little in terms of complimentary scents to round out the overall smell. It has a somewhat sweet smell to it, with what I want to call a fruity smell, almost like the smell of grapes. Overall a superb smell and the strength is quite good on the shaving cream. My review of the strength applies to the shaving cream and not the EdT.
Scent Quality: 10/10



Scent Strength: 7/10


Edwin Jagger Sandalwood
I use both the EJ Sandalwood shaving cream and the After Shave Balm. I have not tried the shaving soap, so I don't know how it compares. The shaving cream has a very similar scent as the after shave balm, except perhaps the balm has a bit of a balmy smell as well in there. Not sure how to explain it. The Edwin Jagger Sandalwood scent is quite strong, perhaps slightly less strong than the AoS one, but still plenty fragrant that you enjoy the scent while shaving. It is also quite true to Sandalwood Essential Oil smell, but adds a tiny bit of complexity again to round out the scent. This is my favorite Sandalwood Scent.
Scent Quality: 10/10



Scent Strength: 7/10


Crabtree & Evelyn Sandalwood
I have both the Shaving Soap and the After Shave Balm, and while I enjoy the scent, its not an everyday scent for me. Its a bit strong and "perfumey" for lack of a better term. Has a strong "sting" to the scent on your nose when you inhale the soap deeply. Its a great lathering soap though and I quite enjoy it. The ASB is quite strong and can be smelled afterwards for a bit. Overall I can't really detect much Sandalwood scent here, its a complex blend of spices with some woody base notes that might have some sandalwood hiding in there.
Scent Quality: 6/10



Scent Strength: 9/10


D.R. Harris Sandalwood
D.R. Harris only makes a Sandalwood Aftershave, but I've included it in this write-up because I know that if you're like me, you're going to want to know what this After Shave Splash/Lotion smells like! Its a pretty potent smell, and again, not predominantly Sandalwood in character. On drydown, there is perhaps a hint of it in the basenotes, but what hits you in the beginning is a blast of camphor, citrus and what I think might be patchouli.
Scent Quality: 7/10



Scent Strength: 10/10


Taylor of Old Bond's Street Sandalwood
This is based on the cream and not the soap. I have not tried the soap, so it could have a very different smell though from what I understand it is similar. Tobs Sandalwood to me does not smell like sandalwood at all. It is a soapy smelling blast of perfumery, that might have some sandalwood in there somewhere, but not to my nose. All the other scents are much stronger and smells quite artificial to my nose. I do not like Tobs Sandalwood scent much at all, though the performance of the cream is quite good.
Scent Quality: 4/10



Scent Strength: 9/10


Mystic Waters Mysore Sandalwood
Mystic Waters makes some good shaving soaps, and this stuff performs well. However, the scent is actually very similar to the Taylor of Old Bond's Street Sandalwood. I was expecting it to smell like the QCS Mysore Sandalwood because of the name, but it smells nothing like it. Another strong, blend of frangrances with an extremely artificial smell to it that doesn't work for me. I prefer more natural smelling creams and soaps. Its quite strong and settles down a bit once you lather it up though.
Scent Quality: 3/10



Scent Strength: 9/10


Queen Charlotte Soaps Mysore Sandalwood
Probably the most natural and authentic Sandalwood Frangrance that I have ever smelled. This stuff smells like straight up Sandalwood EO, and nothing else. I'm not sure if QCS uses other oils in the blend, but I can't smell it. Its not as strong as I'd like it to be, but its pure unadulterated Mysore Sandalwood. Its also priced quite a bit higher than their other fragrances, which tells me that there is a significant value of Sandalwood EO in this cream. Fantastic cream, very nice natural scent, just not strong enough.
Scent Quality: 9/10



Scent Strength: 2/10


Truefitt and Hill Sandalwood
This one is an interesting scent, and to my nose smells nothing like Sandalwood. It has some woody, musk sort of basenotes and some citrus at the top, and smells quite nice and modern even, but doesn't really strike me as Sandalwood at all. Its a fantastic cream too, but I just didn't like it enough to keep it.
Scent Quality: 7/10



Scent Strength: 6/10


Proraso Red Sandalwood
This is actually quite a natural smelling Sandalwood scent, and reminds me a bit of a very light version of the Art of Shaving scent. Its a fantastic performer and probably the best budget Sandalwood scent out there, in my opinion. I keep one of these around all the time and use it for travelling a lot as I don't mind using it to fill up one of my GoToobs.
Scent Quality: 7/10



Scent Strength: 3/10


Hope you guys enjoyed my Sandalwood Shootout write-up, and can use it as a guide for finding your own favourite Sandalwood scent. Everyone's tastes are different, and I've seen others write about a few of these scents with very different opinions, so just keep that in mind when you're trying them out for yourself!