Posted by the dood on Sunday, April 13th, 2014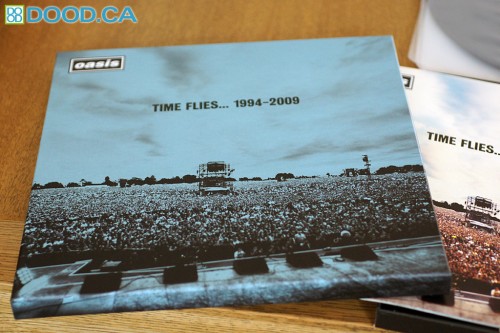 The most recent addition to my Vinyl collection is the Oasis Time Flies box set. Seeing as the majority of Oasis Vinyl LP Releases are costing in the hundreds for a single album, this album seemed like a steal for $250. Not only does it have almost all my favorite Oasis songs on it, but its also a limited edition box set that might actually increase in value, even if I listen to it!
I rarely spend big money on box sets, but Oasis is a band that I grew up listening to in High School and University and helped define me and shape the person I am today. Okay, maybe that's an exaggeration, but I sure as hell listened to a lot of Oasis when I was younger.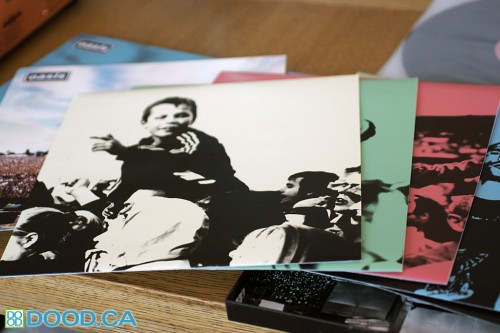 The beautifully boxed 5 disk set features beautiful artwork and photography on all the sleeves and box covers. It includes just about all their major songs, including the fantastic yet elusive single "Whatever". Oddly missing from this set is "Champagne Supernova".
A1. Supersonic 4:44
A2. Roll With It 3:59
A3. Live Forever 4:36
B1. Wonderwall 4:19
B2. Stop Crying Your Heart Out 5:02
B3. Cigarettes & Alcohol 4:51
C1. Songbird 2:08
C2. Don't Look Back In Anger 4:50
C3. The Hindu Times 3:52
D1. Stand By Me 5:59
D2. Lord Don't Slow Me Down 3:19
D3. Shakermaker 5:10
E1. All Around The World 9:41
E2. Some Might Say 5:29
F1. The Importance Of Being Idle 3:42
F2. D'You Know What I Mean? 7:44
G1. Lyla 5:12
G2. Let There Be Love 5:26
H1. Go Let It Out 4:38
H2. Who Feels Love? 5:44
H3. Little By Little 4:53
J1. The Shock Of The Lightning 5:04
J2. She Is Love 3:13
K1. Whatever 6:20
K2. I'm Outta Time 4:09
K3. Falling Down
Sound Quality
I'm an audiophile, so sound quality is very important to me, and often the most disappointing thing when it comes to buying newly pressed Vinyl LPs. It seems like ever other record I buy is a junk pressing, so I'm always scouring for information on whether certain albums are good pressings. I read a couple small reviews that said this was a good one, but I didn't know if these were guys that were playing then on a Sony USB Turntable or true vinyl aficionados. I can tell you without hesitation that this is a FANTASTIC album sound quality-wise. They are superb pressings and sound better than any of the other Oasis Vinyl I have ever heard… which isn't saying much since I've only heard two of their later albums which I own.
Having said that, these are fantastic, and I couldn't be happier with the quality. Having spent about $280US to have these shipped here from the UK, I was taking quite the gamble. And seeing as this is a limited edition of 1500 copies, I don't expect a lot of people to be reading this review anyway, but hey.. its here anyway.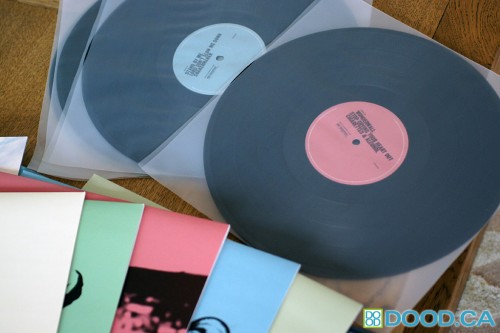 Each disk comes in a paper sleeve with color-coded artwork on it. I always re-sleeve my records in archival quality poly sleeves to reduce the amount of scratching, as pulling them in and out of paper can cause damage in the long run. If you're an Oasis fan and a Vinyl fan, you'd be doing yourself a disservice if you didn't pick up this box set… absolutely outstanding.