Posted by the dood on Wednesday, June 18th, 2014
Fitjar East Indies Shaving Cream
Product: Shaving Cream
Size: 175ml
Origin: Hand Made in Norway
Street Price: $30.00US
Price Per ml: $0.17
Fitjar is a premium shaving cream product that is hand made in Fitjar, Norway – the cream's namesake. It comes in a white plastic jar with an embossed aluminum lid featuring the Fitjar logo. At 17 cents a ml, it is on the pricier side, but not as pricey as the most expensive of the shaving creams. But since the stuff has to ship from Norway, it can cost a pretty penny overall if you're in North America.
The cream has a fairly soft consistency, similar to Proraso cream, but in a tub. It also has that metallic sheen to it, though not quite as much as Edwin Jagger. The scent is called East Indies, and smells like a blend of Rose, and some other herbal spices. I even detect a hint of bay leaves, though quite subtle. Rose is definitely the dominant scent here.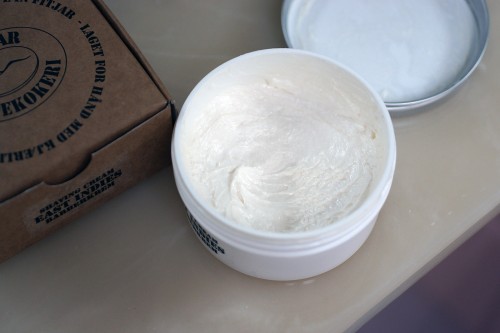 An easy swirl with the shave brush and I start whipping up the lather. This cream lathers like a champ, just as easy as the other popular creams out there, though doesn't need quite as much water as some. This stuff has a fair bit of water content in it already. I'm using my Joris re-knot brush with the TGN Finest fan knot in it. Its a fantastic brush and an efficient latherer and whips this Fitjar into rich, slick lather in no time.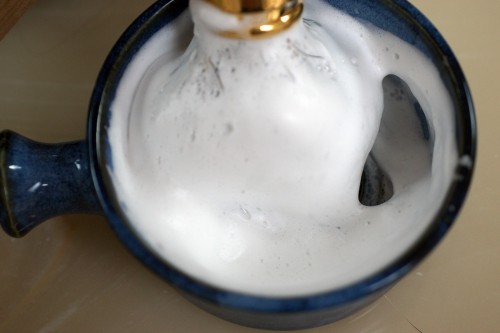 This stuff lathers easily, and really moisturizes the skin. I would say that Fitjar is one of those most moisturizing shaving creams I have used, and also quite slick. I do find that you need to be careful with the water on this one. Don't add too much or you will get quite a bit of froth in your cream.. too much for my tastes. I also found that while I used a scuttle with texture on the bottom to lather this cream, I prefer it in a smooth bowl or face lathered as it froths up very easily. I would rather have that slick yogurt-like lather than the frothy stuff.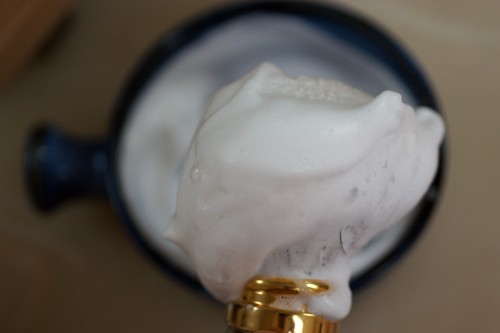 Overall a superb soap that if you can snag it without huge shipping costs is a very decent value. The tub is a decent size and it has a very nice and strong scent. The shaving soaps do not have quite as strong a scent, but the creams seem to be quite fragrant. The fact that it is a small-batch handmade product, from a little town in Norway gives the product some charm. While the East Indies scent is very unique, the performance of the product is not. If you're just a no-nonsense guy looking for a good product, you will not see the value in Fitjar – stick to Tobs and Proraso. If you want some unique scents with some interesting history, then this might be the cream for you.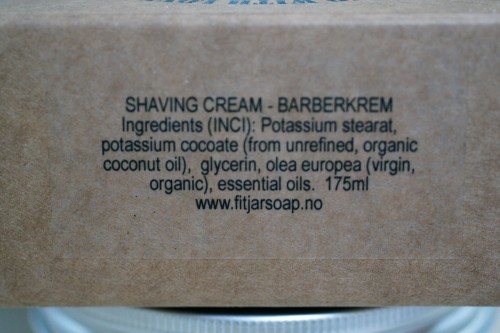 Ingredients: Potassium stearate, Potassium cocoate, Glycerine, Olea europea, Essential oils
Scent: 8/10



Lather: 9/10



Cushion: 7/10



Glide: 8/10



Moisturizing: 9/10



Packaging: 7/10



Value: 8/10



Overall: 8/10


Associated Products Used in This Review: Joris Re-Knot TGN Finest Brush, Shaving Bowl.