Posted by the dood on Sunday, December 8th, 2013
Vulfix Travel Super Badger Brush
Specs:
Hair Type: Vulfix Super Badger
Knot Size: 20mm
Loft: 45mm
Handle Height: 37mm
Glue Bump: None
MSRP: $60USD
This Vulfix Old Original Travel brush was my first ever travel shaving brush. Its seen a handful of trips, and probably a few dozen shaves. After a while, I decided that any trip longer than 2 days needed at least two shaving brushes, so now I have 3 dedicated travel brushes and I also have the large Vulfix travel tubes that fit full size shaving brushes. I still do appreciate the compact size of the smaller travel brushes, however.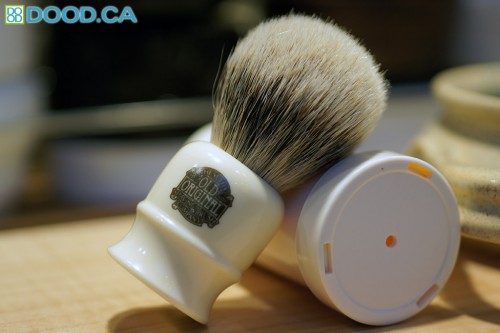 There is the Vulfix Travel brush, in Super Badger, which is the same grade of hair as Simpsons "best". Vulfix brushes tend to be packed looser, and thus have less backbone but generally better flow through and are easier to lather with in my opinion. While I love the rich, luxurious feel of a denser brush, they are generally harder to lather with.
The 20mm knot on this Vulfix does feel a bit on the small size for me, but its never really an issue for holding lather or getting the job done. The handle on the other hand could be an issue if you have larger hands. I found it very difficult to bowl lather with, and I don't have large hands. Its best used for face lathering when on the go – which is what I believe this brush was designed for anyway.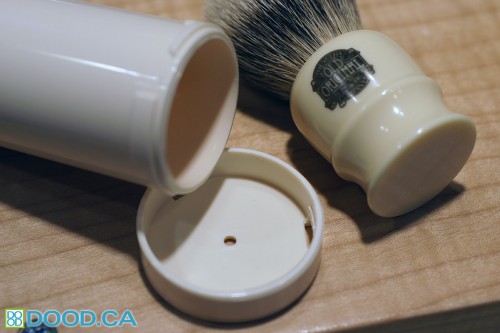 The travel tube has a solid screw-on lid that only needs a quarter-turn to snap into place, much nicer than lots of threads I think. It also has a drain hole at the top. It is an ivory color that is close to matching the color of the brush handle.
The tips on the Vulfix are quite soft, and while they are supposed to be the exact same grade of hair used in Simpson's Best brushes, it seems somehow softer and less scritchy to me. It's not silvertip, but it feels softer than best. It might be partly a product of the looser density as well as a particularly soft batch of hair. Overall a very comfortable brush to use that I enjoy when I'm travelling. I never use this brush when I'm at home (except when I first got it) – I don't like it THAT much.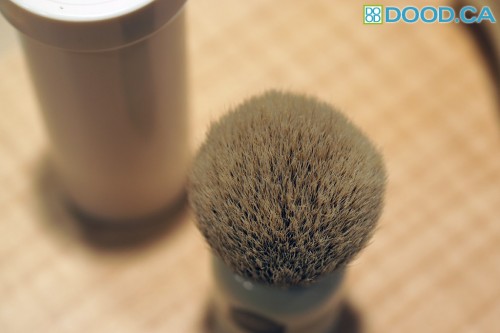 The brush has a fairly round bulb-shaped profile, and generally works well. Out of all my dedicated travel brushes, this is probably the most convenient and easy to use. I have others such as a Simpsons Case, Custom TGN Finest 2-Band and a Crabtree and Evelyn Screw-together type brush in best, but if I had to grab only one travel brush, I would take the Vulfix. While that doesn't mean its the most interesting brush to use, it is the most well-rounded I think. Not particularly good for soaps, but serviceable. Its probably better suited to creams because it doesn't have that much backbone.
Overall I think its a nice travel brush and I generally prefer this to the screw-together affairs that I have handled and used in the past. It has better knot dispersion and feel than the screw-together types, and I prefer the handle feel of a regular shaving brush handle over the super-long ones that the screw-together kinds have overall, though this tube winds up being just a touch larger if you're really cramped for space. Good brush, I would recommend.
Vulfix Travel Super Badger Brush Specs and Rating:
Handle Comfort: 7
Uncomfortable
Comfortable
Soap Performance: 6
Poor
Excellent
Cream Performance: 7
Poor
Excellent
Bowl Lathering: 6
Poor
Excellent
Face Lathering: 7
Poor
Excellent
Softness: 7
Scratchy
Soft
Backbone: 4
Floppy
Strong
Scrub: 5
Gentle
Scrubby
Density: 5
Sparse
Dense
Hair Thickness: 6
Thin
Thick
Flow-Through: 8
Lather Hog
Lather Giver
Value: 8
Rip-Off
Steal
Overall: 7
Mediocre
Excellent