Posted by the dood on Tuesday, November 5th, 2013
Proraso White Sensitive Skin Shaving Soap in Tub
Product: Soft Shaving Soap
Size: 150g
Origin: Made in Italy
Street Price: $10.00
Price Per g: $0.07
Proraso is a household name in the shaving community, known for their high quality, Italian made shaving products which are priced very affordably and well within the reach of the everyman. Proraso's products are top performers, and the only fault I could ever find would be the scents – not the most complex and invigorating but still very decent smelling product overall that wouldn't offend most.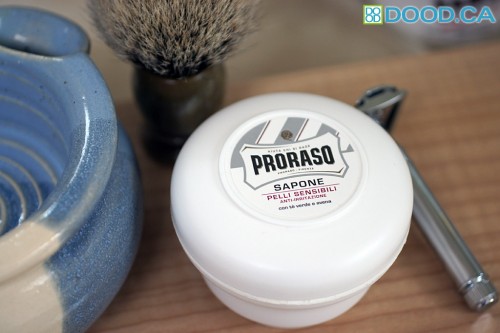 The Proraso White soap comes in a tub with a snap top lid. The tub has the classic Proraso shape which is larger at the top and narrows down at the bottom. This, like all Proraso soaps is a soft soap, also known as a "croap" by those in the forum community. It is soft enough that you can manipulate it with your fingers but probably couldn't squeeze it out of a tube like the regular Proraso Shaving cream. This soap also seems to last a lot longer than the cream, which makes it a better value in my books. I also love tubs in general!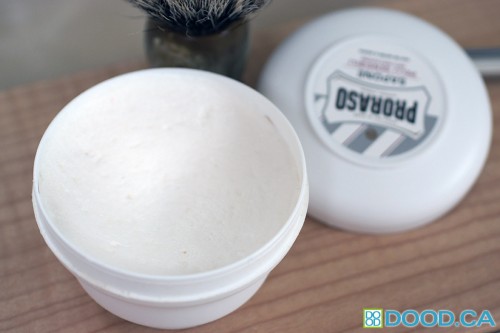 The cream is pretty white in appearance, without that irridescent sheen that you see with Proraso Shaving creams. The product has some "holes" in it, that remind me a little bit of Feta Cheese. The scent is a refreshing blend of menthol and some other soapy smells – it just smells kinda clean and menthol-y. Pretty unoffensive but if you're spoiled by more sophisticated scents like Penhaligon's and Czech and Speake you might find the smell lacking.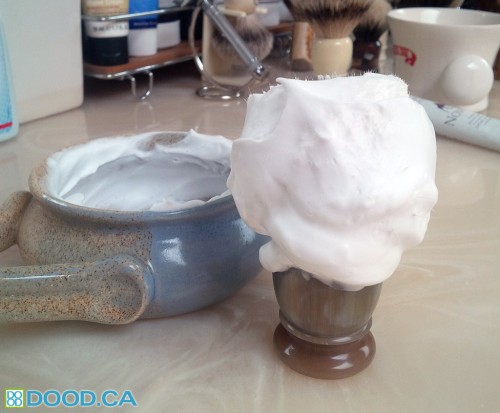 This stuff lathers super easy like all of Proraso's products and it provides a decent amount of glide too. Not quite a slick as other soaps, and seems to be more like a cream in performance. Fluffier and good cushion, but lacks the slick glide of harder soaps. It is fantastic stuff though, never a bad shave and good enough to use day after day. Its pretty moisturizing too this one, and less menthol-y than the Proraso Green that is favored by many, which I guess is why they call this one "sensitive skin". It still leaves a skin tingle and the matching pre-shave and aftershave products also have some menthol in them.
Highly recommended stuff, along with all the rest of the Proraso Soaps – can't go wrong for $10!
Ingredients: Aqua (water), Stearic Acid, Cocos nucifera (Coconut) Oil, Potassium Hydroxide, Glycerin, Sodium Hydroxide, Lactic Acid, Parfum (fragrance), Menthol, Tocopheryl Acetate, Sodium Lauroyl Sarcosinate, Hydroxyethylcellulose, Sodium Hydroxymethylgycinate, Hexyl Cinnamal, Geraniol, Citral Limonene, Linalool, Pentaerythrityl Tetra-di-t-butyl Hydroxyhydrocinnamate, Thymus vulgaris (Thyme) Flower/Leaf Extract, Etidronic Acid, Tetrasodium EDTA.
Scent: 6/10



Lather: 9/10



Cushion: 9/10



Glide: 7/10



Moisturizing: 8/10



Packaging: 6/10



Value: 10/10



Overall: 9/10


Associated Products Used in This Review: Kimson Buffalo Horn TGN Finest Brush, Pottersong Shaving Scuttle.