Posted by the dood on Saturday, October 27th, 2007
I had a little birthday shindig on friday night at my place. My co-partner in crime on here, Rob, was also present. A good time was had by all, with lots of potlucked dishes including a fanastic dip by a friend of ours, Frank, who might be joining us in this blog soon as well.
We all headed out to Starbucks around 10:30 to have a coffee and chill for 30 minutes… then Shannon (my girlfriend) and I came home. Se wanted to give me my birthday presents, which consisted of two knives, and a bath bomb. Now those of you that know me, know that I am a huge knife collector and also run a website on custom tactical knives, so buying a knife for me can be a daunting task for a girlfriend. Shannon decided she would buy me a couple, and was very nervous about buying them for me.
The knives I collect are very expensive so she felt a bit awkward giving me knives that aren't really as expensive as the stuff I typically collect, since she is a student and can't afford to buy me lucrative gifts (but that still doesn't always stop her – she got me a $100 Black Hearts Brigade t-shirt too).
The first knife was a nice CRKT Side Hawg knife:


Its pretty cool. I like it quite a bit. The second knife she got me is a Gigand Stallion: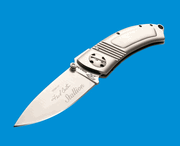 They're both really nice knives and I am very happy that she gave them to me, but I made the mistake of saying that I used to have one of the Gigand Stallions before, and she was pretty embarassed and got very upset… I didn't realize that the statement would have the impact that it did. I regretted saying that. I also had a funny look on my face when I saw the box since I knew what it was – not good to have. From this experience, I have learned something that I want to share with other guys out there.
Guys Moral of the Story – When your girlfriend takes a risk and spends her hard-earned money to buy you a gift that is something you are passionate about, let her know that you appreciate her effort and that you see that she put a lot of thought and love into the gift.
In my case, I should have never made light of the fact that I had one of those knives before. She immediately got the impression that it was a stupid gift since I had already had one before. Combined with the fact that I typically collect knives in the $400+ range, she felt like her gifts weren't good enough. But they are! I love that she took that risk and bought me a couple of knives. It wouldn't have mattered what she got me but I'm proud to have a girl that is willing to put herself out there like that just to make me smile. And for that, I love her.