Posted by the dood on Sunday, November 25th, 2007
I've been looking for a new CD Player for a while. Ever since hearing that Krell KAV-300CD in my system, I've had a yearning for a new CD player to replace my Sony 555ES/Lite DAC combo. The Combo sounds good, but is a bit too laid back and lacking in definition now that I've heard better.
This is where the Shanling SCD300 comes in. I've heard amazing things about this player, but i'm not sure about buying another Chinese made player, but the list of specs is nothing short of amazing, not to mention it is a beautifully made top-loader for under $1500!
Check it out: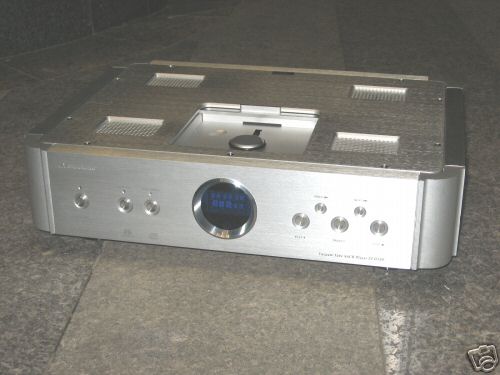 The parts used in it are quite amazing:
Top-Loading Sony KHM-280AAA SACD Pick-Up
High-Precision Clock
Sony CXD2753 SACD Decoder
Burr-Brown SRC4192 Upsampling Processor to 24 bit/192 KHz
PCM1792 DAC – Two of these are used, one for each channel
Dual EH6922 tube analog output stage for Unbalanced output
Burr-Brown OPA627 Op-Amps for Balanced output – 4 of them. Best Op-Amps you can get.
I think I really need to get one of these cd players.. I will not be happy until I get a new CD player. I enjoy the convenience of the 5-disc carousel on my Sony 555ES, and the mods I have done to it improve the performance immensely, but I am craving absolute perfection now.