Posted by the dood on Thursday, December 13th, 2007
As much as I love the internet and posting on forums and running my websites, I am not much of a computer hardware guru, which is unfortunately since there is a lot of interest in the stuff and starting a websites in that niche would be quite a profitable venture. I picked up my new Dell laptop a few weeks ago, and have started using it and familiarizing myself with Windows Vista, and seeing how I like it compared with XP and even Mac OS, which i'm not too fond of.
The machine I got is the 14″ model with a beautiful screen and these specs:
Intel Dual Core T2310
1 GB Ram
80Gig HD
14.1″ Hi-Res Glossy 1440×900 Screen
CD/DVD
Green Color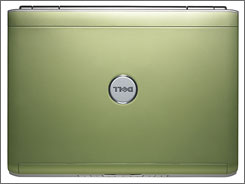 I love the green color.. it makes the laptop more personal and something more interesting than your typical black and silver offerings. The screen is also beautiful, and I am really enjoying the way vista looks and feels. The new interface is pleasant to use and all the graphical elements are much improved. I have however had some problems with certain programs working properly with it, mostly just with MagicISO.
Anyway, I highly recommend these new Dell Laptops, they are nice to use. They even have a SD/MMC card reader in them, really cool.