Posted by the dood on Monday, December 24th, 2007
If you've been around you'll see that Designer denim (along with every other luxury good out there) is bigger than ever now, with some really cool stuff coming from the giants in Designer denim like Rock n Republic, True Religion, Diesel, etc. For the discerning gentleman, a pair of True Religion jeans is indispensible. Masculine and bold, unlike a pair of Rock n Replublics, which do look really good, but have a slightly more metrosexual vibe to them.
True Religion Jeans for men in Vancouver can be found at Below the Belt, Boys'Co, Plush Lounge, Holt Renfrew, Fab, Hill's and a few other places. Rock and Republics are found at pretty much the same places. Other popular brands like Diesel, Energie and Evisu are often found at similar stores as well.
Back to the discussion at hand: Super T, Big T? What is it and why do I want it?
Big T stitching is an emphasized white sticthing used throughout the jean giving it a very bright white thread. in the seams. It looks hot, and right now is probably one of the more bold statements you can make with your mens jeans: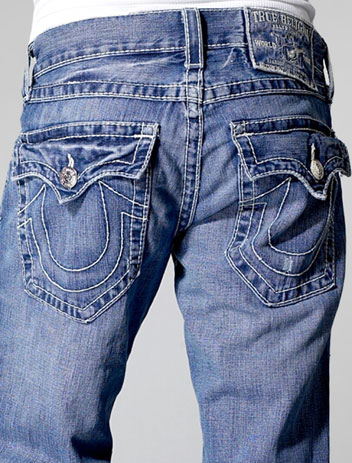 Super T stitching is an even more bold and emphasized stitching than the Big T. Think of it as True Religion Big T on steroids 🙂 My personal fav's for showcasing a nice pair of jeans. The Big T is good for everyday wear, but the Super T is good for those special days: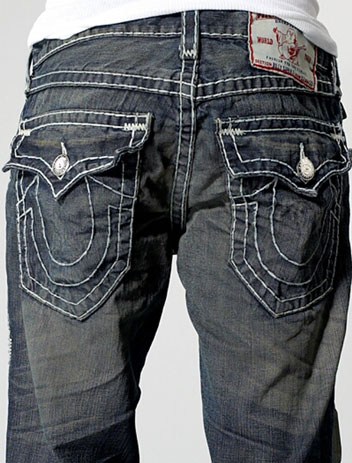 True Religion has also recently put out some nice hidden stitch big pocket jeans and painted horseshoes as well as the Rainbow pockets. Now you have lots of variety and can have several pairs of True Religions for any occasion. Typically the Super T's are the most expensive, Big T's are mid-priced… the painted Horseshoe's are quite cheap.
A pair of Trues for every budget! What a concept 😉
Pics and jeans can be picked up online at revolveclothing.com