Posted by the dood on Saturday, November 1st, 2008
Yes, he is endorsing wine. The wine company is called "The Cool Wine", which I suppose makes wine cool to drink, rather than something only stick-up-the-butt old folks drink. Its all a part of the new dont-wanna-grow-up culture that us 20 and 30 somethings are living in.
The wine is a mid-priced product, with US Street prices around $22.99 a bottle. Not really sure how it tastes, as its relatively new, and no one has really said anyhting about it. One thing is for certain though, the packaging is 100% Christian Audigier, and looks killer. Check it: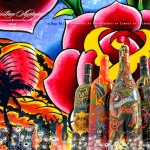 Is it a gimmick? Yes. Is it too much? Yes. Is it Cool? Not Really.
I love Christian Audigier's designs, and I love the bottles, but this kind of Cross-Promotion just makes me gag. I'm not a wine-drinker, and these cool bottles won't make me one. However, if I ever see it available in Canada, I would probably buy a couple bottles for decoration.
The website: http://www.thecoolwine.com