Posted by the dood on Friday, December 19th, 2008
If getting decked out in Christian Audigier Hoodies and T-shirt's isn't Gangster enough for you, try adding a little more CA to your life with some of the new accessories from the wildly popular and expensive clothing line.
Some of the new stuff includes Gangster Chains and Rings and even Watches. A bit pricey, but done with the traditional flair that all Christian Audigier designs share. $450 for this Sterling Silver Ring. Ouch. The ring is pretty cool though.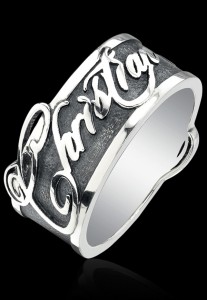 Now this watch is not really my taste. When Ed Hardy came out with watches, I gawked. I do not like fashion watches. I'll take a nice swiss made automatic ANY day. Heck I'll take a Quartz Tag Formula 1 over one of these. But someone must be buying them:
You can check out the whole line of New accessories here:
http://www.christianaudigier.com/Jewelry-s/120.htm
And watches here:
http://www.christianaudigier.com/Men-s-Watches-s/154.htm