Posted by the dood on Friday, December 19th, 2008
See Part 3.
Finally we are back to talking about gear again. I enjoy gear much more than software, as for me, software is a means to an end, while gear is just cool!
The other two main peices of gear you are going to need to complete your system is a Mixer and Microphones. I'll talk about speakers later, but I am assuming that you already have an amp, tv and speakers, and are just integrating a karaoke system into your existing home theatre system. It would be a bigger article to talk about setting everything up and making purchasing decisions for all of them. I am using a ceiling mounted front-projector for my karaoke setup, with a 105″ homemade screen – gotta save those pennies in these trying economic times!
Mixers
Choosing a Mixer is going to be a bit more easy than choosing a Microphone because there is a less drastic effect on the sound, and any decent mixer will give you good results. The important thing with the mixer is you will want at least 6 channels, with two of the channels designed as stereo CD/AUX inputs for the karaoke machine. The other 4 will be for microphones. If you think you'll only ever need 2 microphones, a 4 channel mixer will suffice, though there aren't too many with that few channels around.
The other feature you will want is mixer effects built in so you don't have to purchase a separate effects processor. This will save you a couple hundred dollars, because you will want to be able to add a bit of karaoke echo to your vocals. If you plan to use a condenser Microphone for vocals in the future, make sure the mixer you choose has phantom power. Most professional mixers do have phantom power.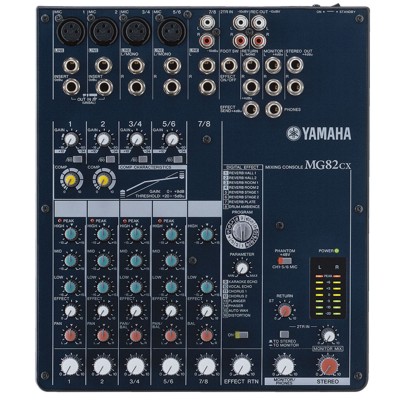 The unit that I settled on was the Yamaha MG82cx. I chose this mixer because Yamaha mixers have very good sound quality at a price you can't beat. It also has 8 channels which is perfect, with a built in effects processor that can be adjusted for each channel individually. It also has high/mid/low equalizers for all the microphone channels, which allows you to do some minor vocal shaping to make your vocals sound better.
Because this is a professional mixer, you will want to use balanced microphone cables rather than the unbalanced 1/4″ plugs that come with karaoke mics. It will not sound right unless you used balanced XLR cables. Another feature of this mixer is the sub 80hz filter. It allows you to filter out low sounds from the microphone channels which significantly reduces microphone handling noise and slightly reduced pop as well.
When adjusting the mixer for the first time, it is hard to get all the settings right, but essentially how it works is every channel has individual gain and volume, and then there is an overall volume for the mixed (microphone + karaoke music) signal as well.
Here is a break-down diagram out how this will be hooked up: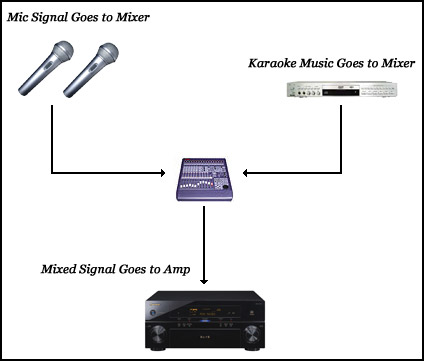 The types of cables you need to hook the mixer up to your gear will depend on the type of mixer you buy. You will probably need at least one pair of 1/4″ TRS to RCA adapter cables since most mixers do not have RCA outputs. They will usually have one pair of RCA inputs, however. The Yamaha requires one pair of 1/4″ to RCA adapters.
Microphones
I'm not that knowledgeable with Microphones, but I do know that Vocal Condensor microphones sound really good, and a bit more natural than dynamic mics. I found after more expensive Microphones, the cheaper ones sounded sort of tinny, and less natural, especially at higher gain.
I ended up purchasing an Electrovoice Cobalt EV-7 and EV-9, one of which is a dynamic microphone and one which is a condensor. Both sound very good, and far better than the freebie microphones that come with consumer grade karaoke equipment.
You will have to buy and try your own microphones in order to determine what you want. Do remember to buy the balanced XLR cables to hook your mic up to the Mixer. You'll also want to make sure you have a good pair of speakers that can really handle a lot of volume, and sound good while doing it. Some major Consumer brands that produce decent stuff would be Klipsch, Paradigm, PSB, Athena, Energy and Definitive Technology. A subwoofer wouldn't hurt either.
So now, you should be all set to hook up your system and get rocking! Hope you enjoyed the series.