Posted by the dood on Monday, March 30th, 2009
Just went to the Mercedes Benz dealer this evening, as I need to buy a new car come July when the lease on my Cadillac CTS runs out. I decided to go with the GLK350 as I really like the way it looks from the photos. I went down there to test drive it and order one if I liked it, and I did!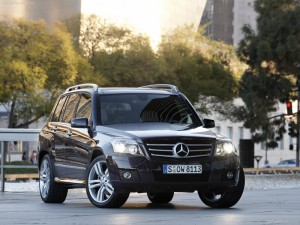 I settled on the Dark grey.. I don't remember the name of it. Tutonic Grey or something. I wanted the big 20″ wheels of course, and I got about $10K worth of options.
Its a very nice car with some pretty cool features:
268 Horsepower 3.5L engine
AWD – Electronic Traction Control
Parktronic Sensors
Navigation with Voice Command
Bluetooth
6-Disc DVD Player
20″ Wheels
10-Way Eletronic front seats and seat warmers
Power tilt steering wheel with memory
Wood Burl Accenting
Security System
Panorama Sunroof
I am totally stoked to get this car.. it should be available by around June, as demand is pretty high for it right now. Its basically a C-Class sedan raised a few inches off the ground with a new 4th generation 4Matic system that has a multi-disc center differential clutch that improves traction in snow and ice.