Posted by the dood on Sunday, July 26th, 2009
I just returned from a trip to Patong Beach in Phuket, Thailand. It's a beautiful beach with tons of restaurants and a bustling nightlife, but it has gone from something that is charmingly Thai to a constant marketplace full of Pakistani and East Indians, competing with the Thais for market share. Additionally, it is a non-stop barrage of people asking you if you need a Taxi, Tuk-Tuk, Massage or Sex Show. The streets are dirty and the people are aggressive and rude. Its really a shame.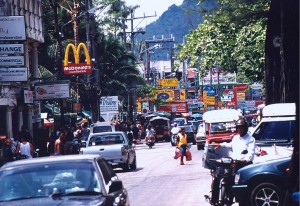 The massage parlours have somewhat pretty Thai girls all congregating outside with tight and revealing clothes, advertising Thai Massage, while what they are really offering are other sexual services. You can't walk down the street for more than 2-3 seconds without someone asking you if you want to buy something, and this is EVERY street, not just the main drag. Everywhere there is a street, there is someone trying to sell you something.
Additionally, the hospitality of the people in Patong Beach has deteriorated since I was last here 6 years ago. They were a friendly bunch, but having been to Bangkok just before flying out to Phuket, there was a noticeably rougher, less polite hospitality industry here. People don't even look you in the eye and half the time the staff don't even thank you at the hotel when you make a purchase. In contrast, Bangkok hotel staffs are overly grateful and treat you unbelievably well.
In fact, my recent experience in Phuket was bad enough that I would say that I don't think I would ever come back to the Patong Beach part of Phuket. I liked Bangkok much better, and would likely revisit it in another 5-10 years, but not Phuket.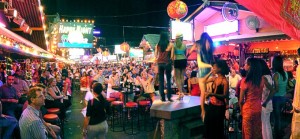 Phuket seems to be a haven for many Ex-Patriots, especially from Australia and the UK. Many are older men that have young Thai girls hanging from their arms. Bang-La Road is truly an interesting red-light district and the Go-Go girls dance all night long and are all available for a price. Generally speaking I don't mind that kind of thing, but having a person hound you every single step if you want to buy something is very intimidating, and discourages you from even looking at anyone's items for sale, because you don't want to be hassled. If you look at their stuff they hassle you even more! And the Pakistanis that have Tailor Shops are constantly in your face asking to shake your hand and try and sell you an Armani-Cut Suit.
All-in-all, Patong Beach has gone downhill tremendously since I was last here, and I won't be visiting it anymore. The cost of taking a taxi anywhere is probably 10 times more than it would cost in Bangkok, and even clothes and stuff from the street vendors costs more than in Bangkok. In fact, the airport and Tuk-Tuk cartels have forbidden metered taxis to enter the patong beach area, which explains their lack of presence there. This allows them to keep the costs high in order to milk the tourists.
Thara Patong Beach Resort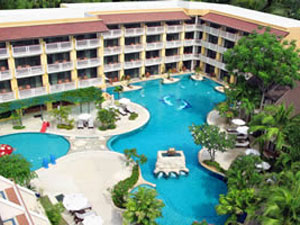 This resort was okay, but nearly as good as I was hoping given the glowing reviews that it had received. It seemed to do things well on a broad level, but not very well in the details. It took us three calls to the front desk to get a second beach towel that was missing from our room.
When we leave for the day the housemaids turn off your air conditioning so when you return from a hot trip at the beach hoping for a nice cool blast of air conditioning all your get is a hot humid room that has the air conditioning turned off.
Breakfast is actually unusually good for a hotel of this price since it was included. And price is definitely cheap. The first room we booked was $35/night. The room was old and very small, and really wasn't cutting the mustard for us, so we requested an upgrade. The new room was much better but costs approximately $20 more per night. Breakfast consisted of all the typical warm and cold North American foods. The Asian dishes include a few different meat dishes along with a fried noodle dish and rice. There is also either Soup or Congee every morning along with a selection of exotic fruits including rambutan, papaya, pineapple, dragon fruit, and many others.
The quality of the staff and their level of service-with-a-smile is definitely subpar when compared with the two hotels we stayed at in Bangkok. Granted the hotels we stayed at were much more expensive, but Phuket hotels in general cost less anyway. We stayed at Novotel and The Peninsula in Bangkok. Obviously comparing the Peninsula with Thara Patong is unreasonable given that the Peninsula is one of the best hotels in the world, but even Novotel completely eclipsed Thara Patong as far as the level of service.
All in all, it was a decent vacation and we enjoyed it.