Posted by the dood on Friday, June 11th, 2010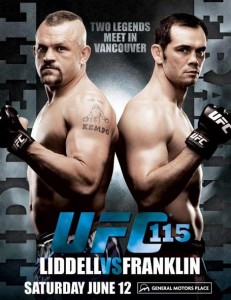 Found a great list of UFC happenings around the town. This includes many opportunities to meet UFC stars and get some photos and autographs. Many of these events are free!
Friday June 11:
11am-1pm: Tapout autograph signing at Sport Chek Pacific Centre, with fighters Anthony Pettis and Mike Guymon, and Tapout founders Punkass and Scrape.
2-3pm: UFC Fight Club Q&A at GM Place, with Chael Sonnen (members only)
3-5pm: UFC 115 weigh-ins at GM Place (free and open to the public)
5:30-7:30pm: UFC Undisputed 2010 tournament and Anchor Bay DVD release, with Chael Sonnen and Jon Fitch (no charge – tourney sign-up from 1pm)
6-8pm: Visions Electronics Port Coquitlam, appearance by Dan Hardy (no charge)
6-8pm: Athlete's World autograph signing with Nate Diaz and Patrick Cote (free of charge)
9pm-2am: American Fighter pre-party at Mint Nightclub, with Rich Franklin (tickets $20-$75)
11p.m.: Silver Star Casting party at the Canvas Lounge, with Clay Guida, Diego Sanchez and Patrick Cote (tickets $25+, ladies free before 11p.m.)
Late: Official Tapout pre-fight party and fashion show at Gossip nightclub with Dan Hardy, Tapout's Punkass and Scrape, and the UFC Octagon girls (tickets from $45 to $500)
Saturday June 12:
11am-1pm: Reflex Sports Nutrition Surrey, with Dan Hardy (no charge)
11am-2pm: Reflex Sports nutrition East Vancouver, with Ryan Bader (no charge)
Pre-fight: Atlantic Trap and Gill with Jon Fitch (ticket prices and times unavailable )
6pm-3am: Hitman after party at The Cellar, with Martin Kampmann and David Louiseau (tickets $20 to $25)
Late: Official Tapout UFC after-party at Gossip nightclub with Chuck Liddell, Dan Hardy and Tapout's Punkass and Scrape (tickets from $45 to $500)
Late: American Fighter after-party at the Edgewater Casino, with Rich Franklin and Dana White (tickets $55 to $1200, includes PPV)
Late: UFC 115 after-party at Forum Sports Bar, with UFC Octagon Girls (tickets $20-$25, includes PPV)
Sunday June 13:
12-4pm: Reflex Sports Nutrition White Rock, with Ryan Bader (no charge)