Posted by the dood on Friday, February 10th, 2012
I picked up the Jasmine Audio Performance 6 Bookshelf Speakers since they were on sale from Canadian Hifi during their Boxing Week sale. They were a REALLY good price and I just couldn't pass it up. These speakers regularly sell for $1199, and occasionally go on sale for around $900. I got them for a much better price than that even! Something to note is that Jasmine Audio is actually known as Jinyon Audio and market their products under the "Elite" Label. Webspage for the product is here: http://www.hifi-elite.com/Performance.htm. The name Jasmine is for English distributors, but the speakers are labelled "Jinyon" and "Elite".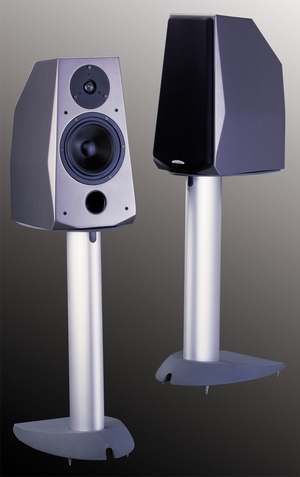 The speakers are the largest of the bookshelf speakers that they make with a smaller Performance 5 as well as a large two-box solution that includes a passive subwoofer base called the Performance 10. I would LOVE to have a Performance 10 in my listening room, but unfortunately the $3580 price tag is a bit more than I want to spend.
Components
The speakers feature a Morel MDT29 Soft Dome tweeter, which lists for $70 but generally sells for just over $50 each. The Morel MDT29 is a well-known and popular tweeter, featuring a 1 1/8″ soft textile dome and 8ohm impedance along with 92dB sensitivity. They have coupled this tweeter with their own composite beehive-style cone 6 1/2″ woofer, and I have to say the results are stunning. Speaker connectors are chunky satin finished Gold plated variety and are are quite nice to use.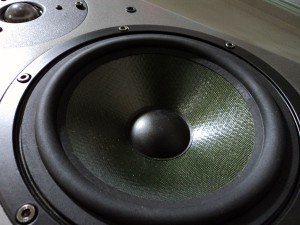 Cabinet Finishing
I purchased the Galaxy Grey version of these speakers instead of the premium high gloss finish, mostly because the Galaxy Grey was the only one available to me. I already have alot of High Gloss Speakers so the Grey appealed more to me anyway. The Cabinet was a bit lighter than I thought it would be, since I was replacing a pair of Aurum Cantus Leisure 2 SE, which have a very heavy cabinet for their size. There are very few right angles if any on the exterior of the Performance 6's cabinets, giving it a very unique and high-end look to it that few North American and European speaker manufacturers can match for the money.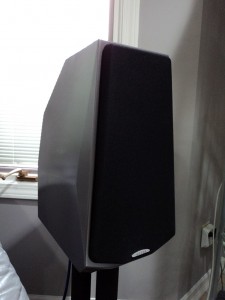 Sound
I won't wax poetic about the imaging, soundstage and decay of these speakers, but lets say that it has all that in spades. I ran the speakers through the usual Classical, Jazz and Pop music which include both audiophile and mass market albums and they performed very respectably. The first thing I noticed when I replaced the Leisure 2SE's with the Performance 6's is that the sudden increase in midrange detail and emphasis. It is well-known that the Leisure 2SE's have a bit of a weaker midrange and tend to excel in the highs and bass.
The Jasmine Performance 6's just blew me away once I had them running for a while. They have a fantastic midrange detail to them and really open up the music, yet are less fatiguing than the Leisure 2SE. Often speakers with good midrange can end up sounding "Shouty", not the case with these ones. Totally non-fatiguing and smooth female vocals.
The one weakness that these speakers have is the lack of bass. What bass they do have is tight and punchy, but it doesn't go as low as I would have expected at the 48Hz spec. My Reference 3a De Capo MM-i is rated down to 42Hz, and sounds much stronger, and the Leisure 2SE's are rated down to 52Hz and sound punchier, but that might just be mid-bass. Either way.. when listening to Jack Johnson the bass guitar just doesn't hit the spot quite as well.
Value & Comparison
The price of the Jasmine Audio puts it against some stiff competition like the Totem Rainmaker, B&W 685, Paradigm Studio 10, and many many others. These are VERY good speakers that it will have to go up against at their retail pricing. Given their weak market penetration outside of Asia, they will not retain their value at resale and will likely have to be discounted heavily in order to sell well. I've heard many speakers in this price range including the three speakers mentioned above, and while they all do things well, the Jasmine Audio Performance 6 really does the Midrange better than any of them an has an air of transparency that I have not heard in many speakers at this price range.
Where the Totems and Paradigms truly have the Performance 6 beat is in the area of bass punch and extension, while the B&W probably have good brand recognition and nice fancy enclosures as opposed to actual sound quality. Either way, I personally think that at anywhere from $600-700 that the Jasmine Performance 6 is a very good value and probably beats out most of its competitors if you appreciate the type of sound they produce.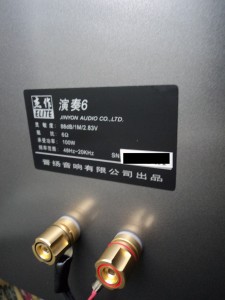 Specs:
Enclosure: 2-ways vented box system
Frequency Response: 48-20,000Hz
Sensitivity: 88dB/1M/2.83v
Impedance: 6 ohms
Size: 426mm x 295mm x 228mm (H x D x W)
Net weight: 8.7Kg / Each
Color: Galaxy Gray (Also available in Gloss Black)
Components Used for Testing:
Source: Bel Canto CD-1
Preamp: Linar Audio Pre-2
Amplification: Odyssey Stratos Extreme Monoblocks
Power Conditioner: Furutech e-TP60, Monster Power HTS7000
Cables: Nordost Blue Heaven, Virtual Dynamics David