Posted by the dood on Sunday, January 20th, 2013
Proraso White Pre-Shave Sensitive Skin
Product: Pre-Shave Cream
Size: 100ml/3.6oz
Origin: Made in Italy
Street Price: $13.00
This is my first in what I hope to be a long series of shaving product reviews and articles as I have really grown a fondness for wet shaving, especially using different creams, pre-shaves, aftershaves and shaving brushes. The first product I have decided to review is the Proraso White Pre-Shave for Sensitive Skin. Proraso makes many shaving products including pre-shave creams, shaving creams and aftershave balms and splashes. The White Pre-Shave with Green Tea and Oat is one of the "burning bush" products I tried that fueled my interest in shaving and really started a big acquisition disorder for me of buying all sorts of shaving products that I want more than I need – which is why I have chosen this product as my first review.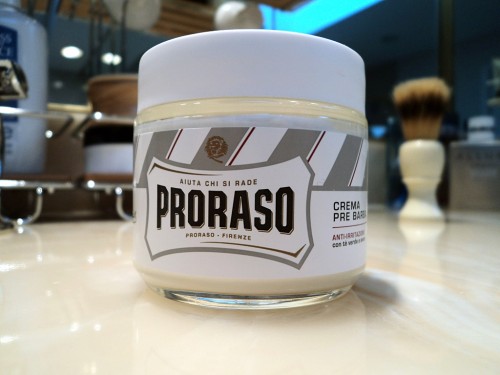 There she is, in very nice glass jar with a white plastic lid. The product also comes in a cardboard box that contains the ingredient list which is shown below. While its not an especially fancy packaging, the glass jar has a nice feel to it and gives it a nice rigid feeling container that feels nice when you're scooping out your pre-shave cream. All the labeling is waterproof plastic type stickers, so they won't get all wrinkly. Like all Proraso products, it is made in Italy.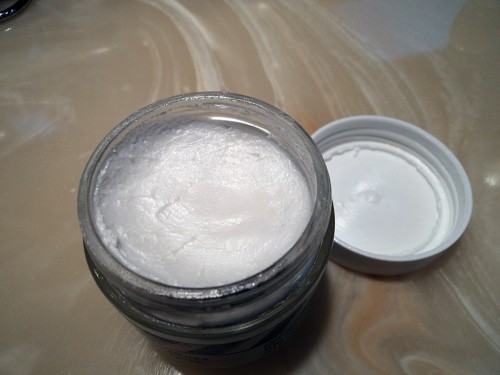 Here's a shot of the product, which has a metallic sheen to it like most shaving creams do. This is not something I have noticed with most pre shave creams, however. This is the new formula, which has no parabens in it, and is now marketed as a Pre-Shave only, but many people still use this as a Pre and Post shave cream. The old formula was actually labelled as a Pre/Post Shaving Cream. Proraso now has a dedicated White Post Shaving Balm which I also enjoy.
This pre-shave has an awesome feel on the face once applied. It has a bit of menthol on it, so you get a bit of that face-freeze effect that Proraso products are famous for, but not as much as the shaving cream. The white sensitive skin line is a bit lighter on the menthol than the green line, if you are familiar with that. I really feel like its prepping my skin for the shave and has a nice soothing effect. It doesn't really improve razor glide that I have noticed, but I like how it gives my skin a nice feeling while I am working my lather.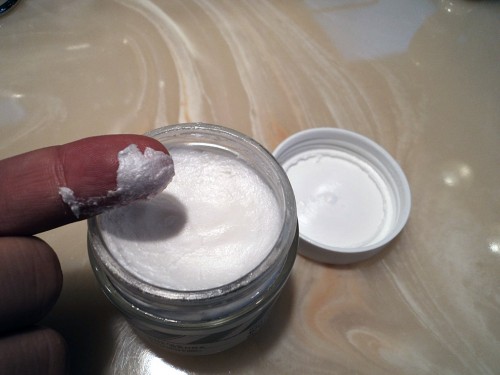 The texture of the pre-shave cream kind of feels like a very thick shaving cream. It is thicker than most pre-shaves and kind of feels a bit greasy when you are scooping it out, but doesn't really feel that way once you apply it. The smell is the same as the rest of the White Line of Proraso products, which is a nice subtle menthol smell combined with a clean, fresh smell that is hard to describe. Some people have described it as "pumpkin guts" smell, but I personally find the scent very masculine and clean. In fact, one of my favourite scents – not too strong but still pleasing for the shave. Here is the ingredient list: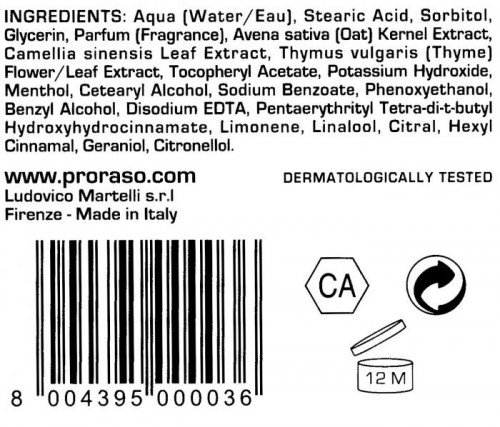 This is one fantastic product and I encourage anyone that likes the Proraso products to give this one a shot. It is a unique pre-shave and might even work for you as a post-shave. I've rated the product based on several factors and given it an overall rating that of course is personal to me – YMMV (Your Milleage May Vary).
Scent: 8/10
Performance: 8/10
Packaging: 9/10
Value: 10/10
Overall: 9/10