Posted by the dood on Sunday, March 10th, 2013
Art of Shaving is synonymous with luxury shaving and has been a fixture in the shaving enthusiast community for a long time. While most Shaving enthusiasts would consider their products overpriced, they do make nice creams, balms and even brushes. This Silvertip Art of Shaving brush under review here is one of their highest end brushes and sells for $180 from Art of Shaving directly – not cheap and priced into the range of some of the most respected brush makers out there like Simpson, Thater, Rooney and M&F.
Specs:
Knot Size: 24mm
Loft: 58mm
Handle Height: 55mm
Handle Diameter: 40mm
Glue Bump: None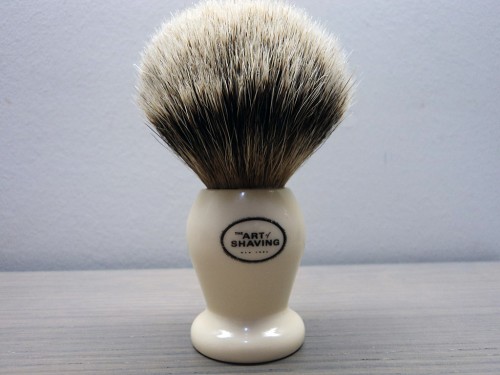 There she is, hand-turned Imitation Ivory handle, with Art of Shaving logo printed on one side, and Silvertip Badger Handmade on the other. It is a handsome looking brush, that's for sure. Stuffed with three band silvertip badger hair, in bulb shape. The bulb shape of this brush is actually even more pronounced than most bulb shaped brushes, which makes the brush slightly less dense feeling and perhaps a bit more floppy feeling than other brushes with similar actual density. It is an unusual shape to me, as none of my other brushes are shaped quite like it and it feels different, I think it improved the flow through of the brush. Its hard to tell from the pics, but the brush almost comes to a point at the top, instead of being very rounded and almost with a small flat section as most of my other brushes are.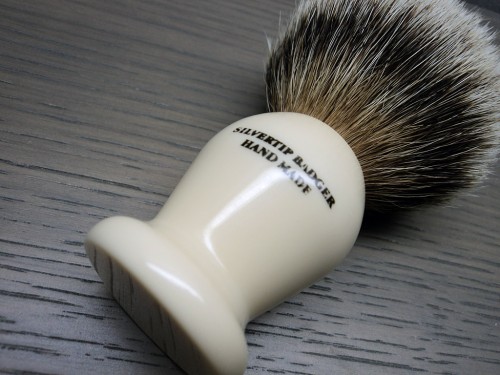 The handle is very nicely turned and has a great feel in the hand. I really like this handle shape as you can get really good grip on the base, but it is still comfortable to hold and light and compact. The handle is a bit small for bowl lathering with my deeper bowl, but it is great for face lathering. The silvertip badger hair is among the softest I have ever owned, and I have had this brush for a few years, comparing it to quite a few different brushes.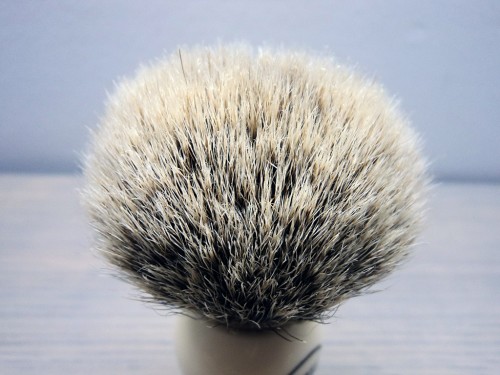 Over the years, I have tried this brush with many different types of soaps and creams, and eventually have decided that it is much better for creams. The bristles are probably a bit too floppy and the tips too soft to really dig into the soaps and get the product out. However, for face lathering creams, this brush is a dream. It has very nice soft tips, without being too floppy. There is no glue bump, which is a good thing, and gives the brush very good face feel when lathering. Due to the extreme bulb shape, I found that while the loft is quite high at 58mm, it probably acts more like 52mm or so.
Overall, an excellent face lathering brush with very soft, comfortable badger hair with fantastic flow through and a good amount of density. I really enjoy this brush as part of my daily rotation on face lathering cream days. I have other brushes I prefer for Bowl and soaps. However, having said that, this brush does not offer good value. It has a similar feel to some Simpson brushes that cost around $100, and many other brushes for a lot less money.
Art of Shaving Silvertip Badger Specs and Rating:
Handle Comfort: 9
Uncomfortable
Comfortable
Soap Performance: 6
Poor
Excellent
Cream Performance: 10
Poor
Excellent
Bowl Lathering: 7
Poor
Excellent
Face Lathering: 9
Poor
Excellent
Softness: 9
Scratchy
Soft
Backbone: 3
Floppy
Strong
Scrub: 4
Gentle
Scrubby
Density: 7
Sparse
Dense
Hair Thickness: 4
Thin
Thick
Flow-Through: 8
Lather Hog
Lather Giver
Value: 5
Rip-Off
Steal
Overall: 7
Mediocre
Excellent