Posted by the dood on Monday, February 25th, 2013
Lucky Tiger has been around for quite a while, making great shaving products. They recently released a premium line of products with organic extracts and all-natural ingredients, of which this After Shave and Face Tonic is one. I needed an alcohol-free after shave splash that soothes my skin, and the Lucky Tiger After Shave really fit the bill.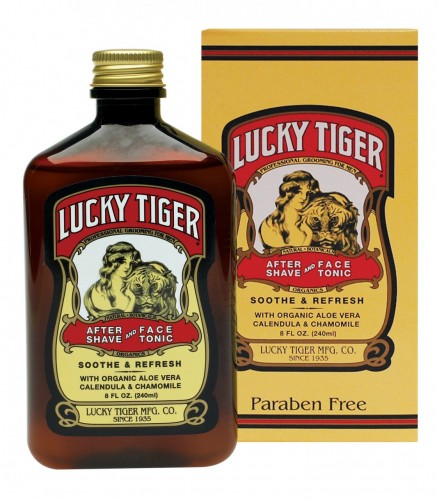 That's the product photo from the manufacturer, with the box. The bottle has an old apothecary style shape with a metal cap. The design is very retro and for me at least, adds to the charm. Also, the product is Paraben Free, though it has several other preservatives that make up for it…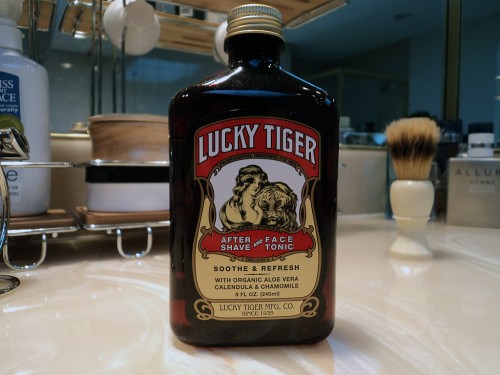 There's my actual bottle of it. Its a witch hazel-based after shave, like the Thayers stuff, but with a few more chemicals in it. The scent reminds me of citrus cleaner, like the stuff you use to remove stickers (Goo Gone I think its called), but it doesn't bother me too much. The scent doesn't linger so its not a big factor. What I do like a LOT about this Lucky Tiger stuff is what it says on the bottle: "Soothe and Refresh". This after shave splash does that in Spades! It is definately the most soothing and refreshing aftershave I have used, really calms down angry skin after a shave.
A note that readers might want to know: I do not use alcohol based aftershaves anymore, so they are not my preference. I only use Witch Hazel based aftershaves like this stuff and Thayers as well as After Shave Balms.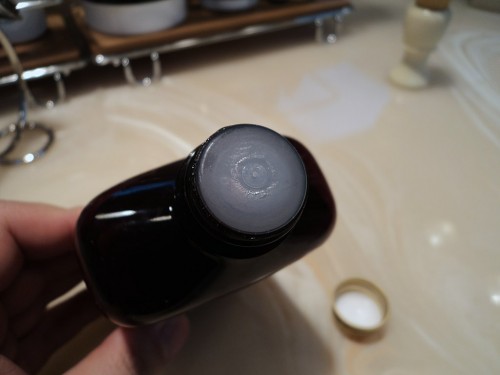 The product has a squirt insert so you can just give it a squeeze into your palm and splash it on your face, its great. I really recommend this product in conjunction with After Shave Balms, which I use daily. I like to splash some of this on my face immediately after a shave, and while I am cleaning my razor, brush and bowl, I let it dry. After that, I apply my After Shave Balm of the day, and my face feel soft and moisturized and wonderful. Great product, as long as you can get past the citrus cleaner scent!
Ingredients:
Purified Water (Aqua), Polysorbate 20, Hamamelis Virginiana (Witch Hazel) Distillate, Glycerin, Aloe Barbadensis Leaf Extract, Calendula Officinalis Flower Extract, Borago Officinalis (Borage) Seed Oil, Chamomilla Recutita (Matricaria) Flower Extract, Sodium Hydroxide, Tocopheryl Acetate (Vitamin E Acetate), Retinyl Palmitate (Vitamin A Palmitate), Trisodium EDTA, Phenoxyethanol, Sodium Benzoate, Fragrance (Citrus Essential Oils).
Scent: 5/10
Moisturizing: 5/10
Performance: 9/10
Packaging: 7/10
Value: 8/10
Overall: 8/10