Posted by the dood on Sunday, April 21st, 2013
Queen Charlotte Soaps Fougere Shaving Soap
Product: Shaving Soap Refill Puck
Size: 3.5oz
Origin: Handmade in USA
Street Price: $15.00
Price Per oz: $4.29
I'm a big fan of Queen Charlotte Soaps (QCS) products, and their Shaving Soap is one of my favourites. QCS is a small mother and son artisan soap shop, but isn't like many of the other Artisan soap makers that just add some bentonite clay to bar soap and call it shaving soap. QCS specializes in Shaving products such as Creams, Soaps, aftershaves and pre-shave products. The Fougere scent is their take on the classic Fougere scent, which has a touch of spice along with some complex smells including fern and something earthy. Overall a very nice professional smelling scent. Price of the puck is $15 for the Fougere scent, and an extra $2 for a plastic tub or $7 for a wooden tub.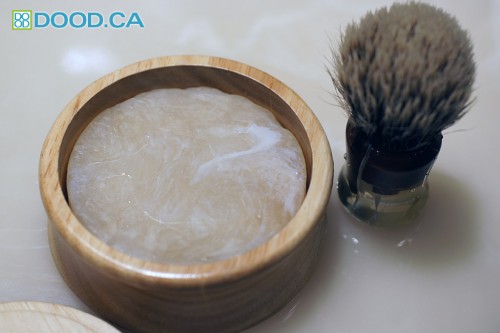 The soap comes wrapped in plastic and I had a wooden bowl that I wasn't using that fits the soap puck perfectly. These might even be the same wooden bowls that QCS offers on their site. With soaps, I find its easier to lather with a drier brush than creams, and also I like to let a little bit of warm water sit on top of the puck while I let the brush soak and apply pre-shave lotion on my beard. After a couple minutes, the soap softens enough to load it properly. I dump the water off the puck, and shake out the brush until the majority of the water is out.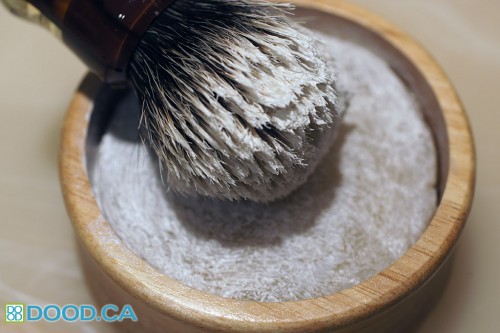 I load the puck for about a minute, going both clockwise and counter clockwise until the brush looks like its got enough soap in it. Sometimes if its a little bit too dry to load, then I add a drop of water to help, but only a little bit… too much and the lather starts to build too much on the puck. I load for about 60 seconds and then move to my shaving mug to build the lather.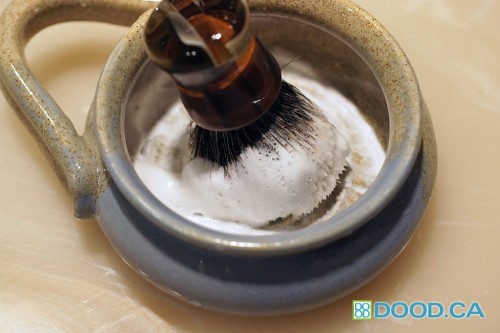 I start building the lather by slowly adding a few drops of water at a time to my Pottersong shaving mug, slowly adding more and more while I whip up the lather until I get my desired consistency. The QCS soap is pretty easy to lather, though it doesn't whip up quite as fast as creams like TOBS and other English creams. The tallow in the soap however leaves a very nice slickness and also leaves my face feeling very moisturized afterwards. I also find that tallow-based shaving creams and soaps tend to have a translucent look to them. The lather usually takes me about 1-2 minutes to build.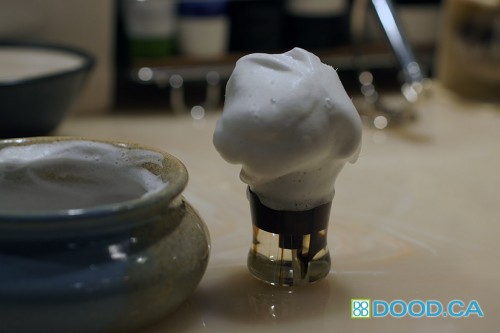 After building for about 1-2 minutes I get lots of creamy lather good for 2+ passes, and if you need enough for 3 passes, you can probably load for longer. This soap is easy enough to lather, and the Fougere scent is very nice. I find the strength of the scent is probably about medium, with a lot of scent when lathering and initial application but after a moment I don't notice it much anymore. I am a big fan of all QCS products, so I don't mind the slightly more work they take to lather. The scent and the nice clean natural ingredients are all attractive elements to me and worth it.
Overall, the QCS Fougere Soap is very slick, and very moisturizing. These are its strong points. It is slightly more difficult to lather, and I feel I have to load the brush a bit longer. I have also heard it is harder to load when you have hard water, which I fortunately do not have to deal with. The scent is very pleasant, but is not my favourite of the QCS scents. It uses a combination of Fragrance and Essential Oils, and I tend to prefer pure essential oil products. Still, a fantastic product.
Here's the Ingredients:
Saponified tallow; water; saponified castor oil and shea butter; glycerin; saponified stearic acid, cocoa butter, and coconut oil; essential and fragrance oil; saponified avocado oil, palm oil, and olive oil; aloe vera extract; kaolin clay; lanolin; vitamin E
Scent: 8/10
Lather: 7/10
Cushion: 8/10
Glide: 10/10
Moisturizing: 10/10
Packaging: 6/10
Value: 8/10
Overall: 8/10
Associated Products Used in This Review: Custom Shaving Brush with TGN Finest 22mm Knot, Pottersong Shaving Mug.