Posted by the dood on Thursday, May 30th, 2013
The TGN Super Silvertip was originally The Golden Nib's Flagship Silvertip knot. This knot is not to be confused with the TGN Super Badger knot, which, while also uses Silvertip hair, does not have the word "Silvertip" in its name. This is a bit of a confusing naming convention, but I expect this happened due to slow expansion of the product line and names becoming jumbled. This knot does not have the avid amount of followers that the TGN Finest or even the Silvertip Grade A seem to have, yet was tied with the Grade A as TGN's most expensive Silvertip (Now superceded by the High Mountain White). The new Silvertip Premium knot is priced the same as as well but I haven't tried any of the new knots yet.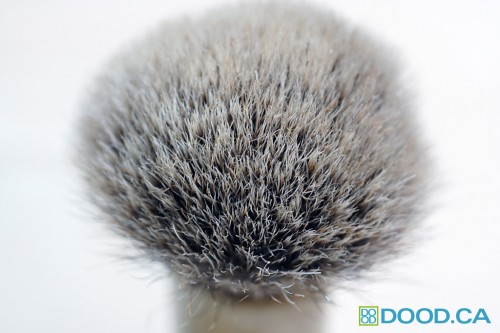 Now down to the meat and potatoes. How does this sucker stack up to the TGN Silvertip Grade A and Finest knots? Well, I think it fares quite well. Unfortunately I only have experienced this knot in a 20mm size set at a low loft of around 42mm, so I can't give quite as good an impression of it as I can the Grade A and Finest, both of which I have several of. One limiting factor of this is that this knot is only available in three sizes: 20mm, 22mm and 24mm. Another is that there are just too many choices and the descriptions from TGN are all the same, so a lot of buyers will gravitate towards the tried and true which are the Grade A and the Finest in this case.
While I don't own a 20mm Silvertip Grade A to compare directly, the Super Silvertip appears to me to be more densely packed. My reasoning is because it has that quality that when you rub the hairs around when wet it feels a bit like a Simpson Chubby or a Shavemac D01 where the hair kind of stays where you moved it and it feels kind of "solid". While its not as dense as the aforementioned brushes, its still dense, and has somewhat poor flow through for a brush of this size. My other 20mm brushes give up lather more easily.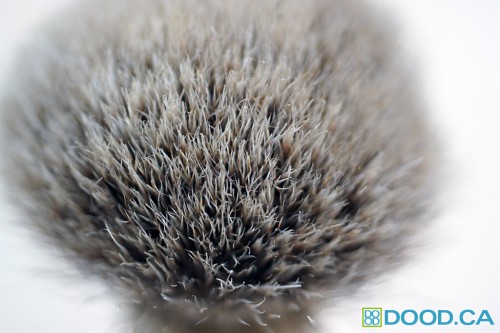 Here is the close-up of the Super Silvertip. You'll notice that there aren't quite as many hooked tips as the Grade A knots, which means the knot doesn't have the same gel-like tips that the Grade A develops. However, the tips are a bit twisty and they do stick together a bit. That's a quality that the TGN Super Badger, with its treated tips, seems to lack altogether.
The tips are all natural on the Super Silvertip, and overall the knot seems to have slightly thicker hair than the Silvertip Grade A. I don't notice as many hairs breaking in use, and the knot seems to lather soaps a bit better. This is an interesting knot, however, because I find that while it doesn't have the heavily hooked tips, it still feels very soft on the face, but has a bit of scrub as I can still feel the hair fibers on my face. I wouldn't describe this as "pillow soft", but it has zero scritch. The backbone on this knot is also a bit hard to describe. While its not floppy at all, it doesn't have the springyness of the Grade A, but it really handles itself well with soaps due to the density. The backbone is actually very good, but it just shows it slightly differently. Overall its a very satisfying knot that builds me some fantastic lather and does a great job with soaps as well as creams. I don't think it holds as much water as the Grade A, but its no slouch.
TGN Super Silvertip Badger Knot Specs and Rating:
Softness: 8
Scratchy
Soft
Backbone: 8
Floppy
Strong
Scrub: 7
Gentle
Scrubby
Density: 8
Sparse
Dense
Hair Thickness: 6
Thin
Thick
Flow-Through: 4
Lather Hog
Lather Giver