Posted by the dood on Friday, August 30th, 2013
Rooney has an almost legendary reputation amongst shaving enthusiasts, mostly for their Heritage line of brushes that can cost several hundreds of dollars, depending on condition and rarity. While those fancy brushes command a premium, Rooney does make a main line for the less inclined.. those of us that choose to spend $100 rather than $300 on a brush. After careful consideration, I picked up a Style 3 Size 1 in Silvertip Badger, also called the 3/1, and that is the brush I will be reviewing today. Here is a basic list of specs for the Rooney 3/1 Silvertip:
Specs:
Hair Type: Silvertip Badger
Knot Size: 22mm
Loft: 44mm
Handle Height: 49mm
Glue Bump: None
MSRP: $90USD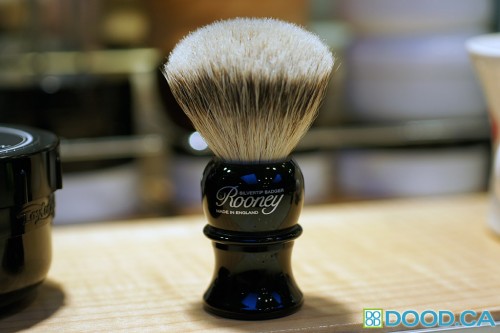 Here is a shot before the first use, showing the fan shaped silvertip badger knot. Its a cool shot, and what's interesting about this brush is the shape of the knot and orientation of it is quite different than any other I've used. While most knots stay splayed out a bit after the first use, but this one is like the most splayed brush I own now. The brush is wider than it is tall now, and consistently has the widest splay of all the brushes in my collection. It feels very different than any other brush I use because it even feels wide when I am using it now, and when I use paintbrush strokes is almost feels like a squeegee.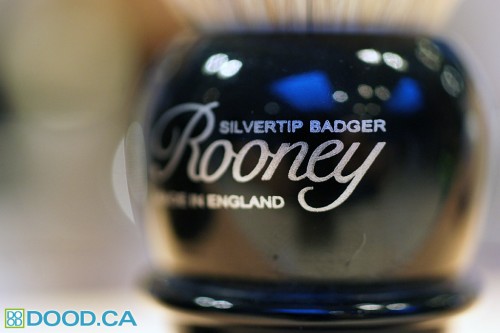 Here's a closeup of the cool Rooney Silvertip Badger logo on my brush, slightly crooked just like many if not most of the Rooney's I've seen pictures of. Funny that.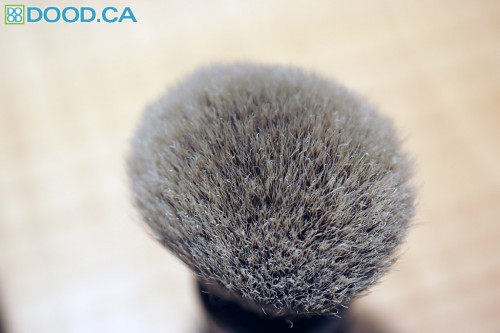 The density of the Rooney isn't that great but it has great flow through. I read that others feel that it has a well-packed knot, but this is one of the least dense brushes I own. It doesn't feel floppy on my face, but when I do circular swirls, the knot completely splays out and flattens out on my face.. so I prefer to use more paintbrush strokes with it, which it does really well. It does have an interesting feel on the face and whips up lather quite efficiently. The hairs are some of the softer silvertips I've experienced as well.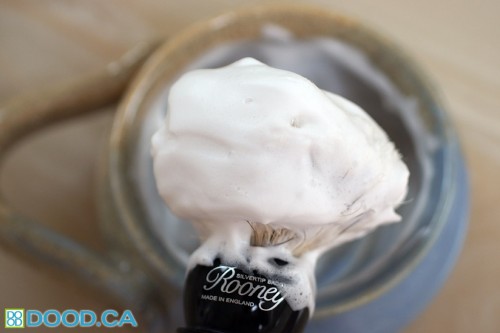 Overall its not one of my favourite brushes, but it is interesting to use and do to the combination of short loft, soft tips and efficient lathering it is good for face lathering I think. Its okay at bowl lathering too, but I generally prefer slightly more loft and a larger knot. While this is supposed to be a 22mm knot, it feels a bit smaller than that to me.
Rooney Silvertip Badger Shaving Brush 3/1 Specs and Rating:
Handle Comfort: 7
Uncomfortable
Comfortable
Soap Performance: 6
Poor
Excellent
Cream Performance: 8
Poor
Excellent
Bowl Lathering: 6
Poor
Excellent
Face Lathering: 9
Poor
Excellent
Softness: 9
Scratchy
Soft
Backbone: 6
Floppy
Strong
Scrub: 5
Gentle
Scrubby
Density: 3
Sparse
Dense
Hair Thickness: 4
Thin
Thick
Flow-Through: 8
Lather Hog
Lather Giver
Value: 5
Rip-Off
Steal
Overall: 6
Mediocre
Excellent