Posted by the dood on Tuesday, September 24th, 2013
My latest TGN Knot is the Silvertip Premium which, confusingly, is in TGN's "Premium Silvertip" knots category along with a couple other Premium silvertip knots – the Silvertip Grade A and the Super Silvertip. All these names quickly get confusing, especially when they use the same name twice (in this case, "premium"). So, inevitably, this knot will be compared with its Premium Silvertip brethren, so I'll just compare them in this review. First, you can see the mounted 26mm knot here in a Rudy Vey handle that I purchase. This 26mm example is the only Silvertip Premium knot I own.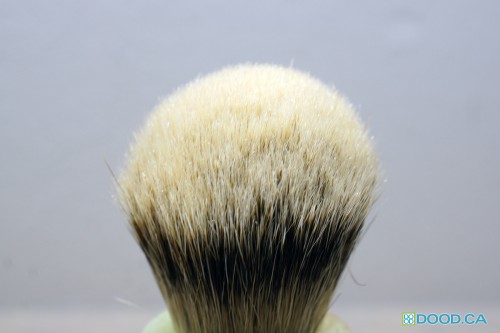 As you can see, the knot has a fairly strong bulb shape, creamy white tips and a well-defined three-band appearance. It has a pretty potent badger smell when new, and very good density – I believe this is the densest of the premium badgers based on this 26mm example. While it is the densest, it doesn't have the strongest backbone but it isn't a big issue because there is so much hair there it simulates a stronger backbone in use.
I quite like this brush and would probably consider picking up another one in a smaller knot size for more regular use. This is a very large and dense brush and certainly requires a lot of product to get a good lather. It does feel very pleasing on the face though because the brush is extremely soft. The tips don't hook quite as much as the Silvertip Grade A tips do, but the overall softness is greater. The hair is less "springy" than both the Super Silvertip and the Grade A knots from The Golden Nib. The Silvertip Premium is sort of a super soft thick pillow in comparison.
EDIT (10/1/2014): I have made an edit after more use and trying newer versions of hair. This hair grade is the thinnest of the Silvertips available at TGN (more so than Grade A). Very very soft because of this, but also more fragile.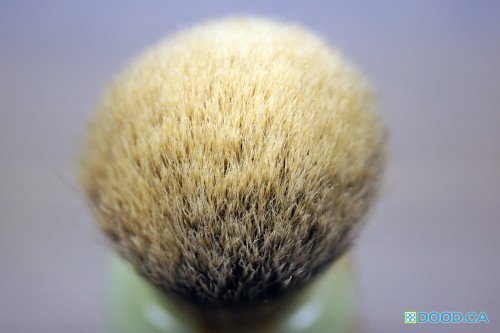 Here is the macro shot of the hairs, and as you can see there appears to be some "hooking" of the tips. They definately clump together when wet and lathered, but they don't quite have that gel tip sensation. I think because the general property of this hair tends to be less springy, it has a very soft pliable feel on the face that probably makes this one of the softest feeling brushes of all the shaving brushes I own – big names and all. Having said that, I have not tried any of those fabled "High Mountain White" brushes yet as of this writing, so if I do in the future, this might not hold true anymore.
I mounted the brush at about 52mm loft, and the brush performs fantastic. While I really do love the TGN Finest 2-Band knots, I really love the variety of brushes that TGN offers and all of the Premium Silvertip Brushes they offer are very good performers with slightly different characteristics that are noticeable to the brush enthusiast. Of all the Silvertip Premium knots that The Golden Nib offers, the Silvertip Grade A is still my favourite, but I still love this knot for its different feel. It is an ultra plush luxurious knot, that makes me wonder what the High Mountain White would feel like.
TGN Silvertip Premium Badger Knot Specs and Rating:
Softness: 9
Scratchy
Soft
Backbone: 6
Floppy
Strong
Scrub: 2
Gentle
Scrubby
Density: 8
Sparse
Dense
Hair Thickness: 3
Thin
Thick
Flow-Through: 4
Lather Hog
Lather Giver


Click here to see a list of all TGN Knot Reviews here.