Posted by the dood on Wednesday, September 4th, 2013
Shavemac D01 3-Band Silvertip Badger Series 25
Specs:
Hair Type: D01 3-Band Silvertip Badger
Knot Size: 26mm
Loft: 52mm
Handle Height: 49mm
Glue Bump: None
MSRP: $170USD
Here's a review I've been pretty eager to write since I acquired my Shavemac a couple months back. This is a custom Shavemac brush, with a D01 3-Band 26mm knot set at 52mm loft – the golden ratio of 1:2 for knot size to loft. Shavemac brushes are handmade in Germany and that legendary meticulous German craftsmanship certain shines through here.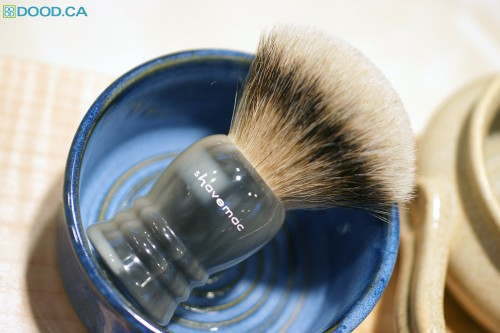 I've got the Shavemac pictured above in my Anderson Pottery shaving mug, which I used for the leather generated in this review. The grey, faux horn series 25 handle looks fantastic and suits the densly packed fan-shaped 3-band D01 knot.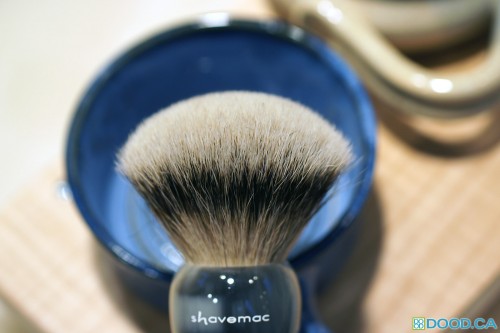 I love the Shavemac knot profile. Shavemac does such an amazing job with construction of their knots. Of all the brands, their knots seem to have the most perfect profile, and looks almost like a fresh haircut, even though the hairs are all naturally terminating. Most knots are a little bit less uniform in length and have a more straggly appearance. My Simpson Best Badger knots are also quite uniform, but they have some trimmed hairs so that might be why.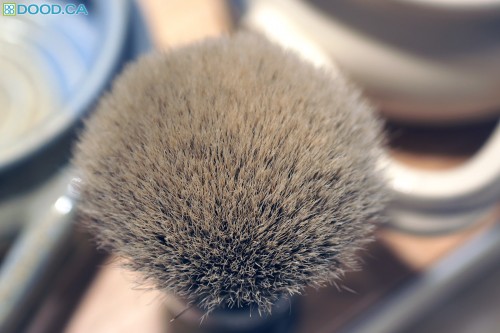 As you can see the infamous D01 3-Band knot is quite dense, and by my estimation, it is one of the densest knots I have ever experienced, tied with the Simpson Chubby CH1 in Best that I own. I can't tell for sure which one is denser, but they are very close. Both have that solid feeling to them when brushed around on the face.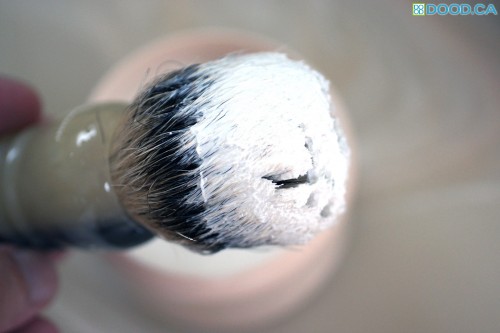 And for kicks, as usual I like to show the brush lathered up, so here is the Shavemac D01 loaded up with some D.R. Harris Arlington Shaving Cream, ready to be lathered. It loads very nicely, even with harder triple milled soaps. I have not had any problems loading with this brush. It does need a lot of product, because the thing soaks is all up, and the density of the brush makes it quite a bit more difficult to build lather than other less dense brushes that I have. However, once you've got that lather, the face feel is incredible and worth the extra work.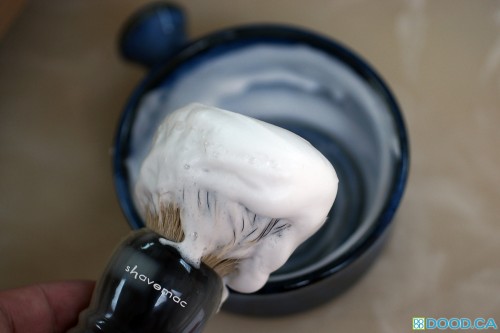 Here's a lather shot, most of it is inside the brush itself, but there is plenty there. The Series 25 handle is one of my favourites from Shavemac, one of their classics. Its great for both face lathering and there is plenty there for bowl lathering as well. The weakest point of the brush is probably flow through… this brush doesn't always like to give up the lather, but that's kind of expected with a brush of this density as is the more difficult lather generation. Overall, however, this is an exceptionally crafted brush with fantastic face feel and performance for an ultra-dense luxurious brush. One of my favourite brushes ever.
Shavemac D01 3-Band Silvertip Badger Specs and Rating:
Handle Comfort: 9
Uncomfortable
Comfortable
Soap Performance: 9
Poor
Excellent
Cream Performance: 8
Poor
Excellent
Bowl Lathering: 9
Poor
Excellent
Face Lathering: 9
Poor
Excellent
Softness: 7
Scratchy
Soft
Backbone: 8
Floppy
Strong
Scrub: 8
Gentle
Scrubby
Density: 10
Sparse
Dense
Hair Thickness: 6
Thin
Thick
Flow-Through: 6
Lather Hog
Lather Giver
Value: 6
Rip-Off
Steal
Overall: 9
Mediocre
Excellent