Posted by the dood on Thursday, October 24th, 2013
Edwin Jagger Sandalwood Shaving Cream in Tub
Product: Shaving Cream
Size: 100ml
Origin: Made in England
Street Price: $22.00
Price Per ml: $0.22
Edwin Jagger shaving creams are well marketed, popular shaving creams that most that are not true shave enthusiasts would consider a luxury shaving cream. Now that doesn't mean they don't make a good product. But like most stuff out there, there are many supporters and many detractors. I am a big fan of the EJ Sandalwood, and it is in fact my favourite Sandalwood shaving cream.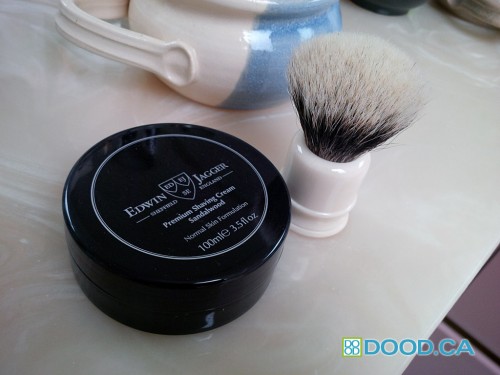 There's the Tub of Edwin Jagger Sandalwood with my Rudy Vey brush and TGN Finest 2-Band Silvertip Fan knot, which is the brush I'll be using to demo the lather generation in this review. The Edwin Jagger creams feature nice screw-top Italian-made plastic jars, which are fantastic for picking up lather and have a nicer appearance than most other Jars I've owned – more modern and compact.
The cream has a beautiful sheen to it that most creams seem to have, and the jar is a good size for picking up the lather. For those that are unaware, this cream is identical to the Sandalwood cream produced by Muhle as well. I find with the Muhle and EJ creams, I have to use a bit more cream than usual in order to achieve the same amount of lather, but it is a high performance cream. One of the first things I notice about EJ Sandalwood is the superb fragrance.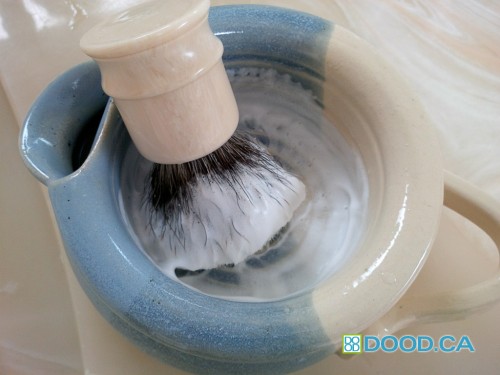 Here I am whipping it up, it requires a fair bit of water, and I find that adding too much will make the cream foam more than I like, as with most creams. I like to add water slowly and achieve that yogurt texture rather than the foamy texture. This gives better glide and protection than foam. I also find that this is a very moisturizing cream on my face. It leaves a lot of slickness and takes a lot of rinsing to clean off as well.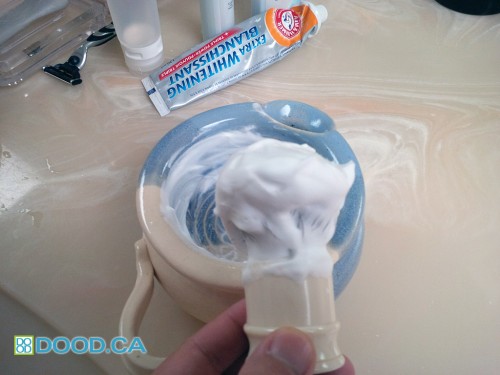 The scent of the Sandalwood in Edwin Jagger's Sandalwood Shaving cream is my favourite Sandalwood out there. Art of Shaving's is a close second, but the musky Sandalwood combined with the hint of sweetness just really pleases my senses. The cream produced is thick, and fantastic. It lathers well in warm and cold water alike, which is an important quality to me. Some creams don't do well in warm water which is a deal breaker for me since I can't use them in the winter when its cold!
Overall EJ Sandalwood is among my favourite creams, even though its probably one of the most expensive creams on the market when it comes to cost per use. In reality the cost isn't that much since it does last quite a while, so if I enjoy a cream, I will buy it. Don't mind the shot of the Mach 3 there in the background, I don't really use it! I promise! 😉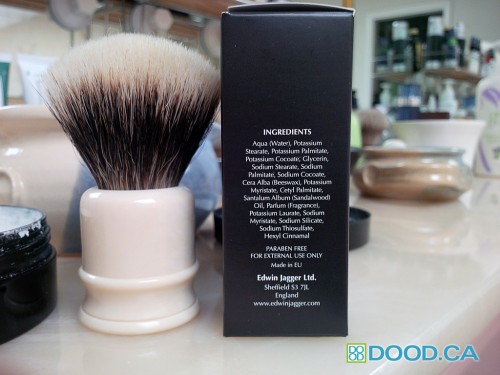 INGREDIENTS: Water, Potassium Stearate, Potassium Palmitate, Potassium Cocoate, Glycerin, Sodium Palmitate, Sodium Cocoate, Beeswax, Potassium Myristate, Cetyl Palmitate, Sendalwood Oil, Parfum (Fragrance), Potassium Laurate, Sodium Myristate, Sodium Silicate, Sodium Thiosulfate, Hexyl Cinnamal
Scent: 10/10



Lather: 9/10



Cushion: 8/10



Glide: 9/10



Moisturizing: 8/10



Packaging: 9/10



Value: 7/10



Overall: 9/10


Associated Products Used in This Review: Rudy Vey TGN Finest Brush, Pottersong Shaving Scuttle.