Posted by the dood on Monday, February 17th, 2014
Edwin Jagger Briarwood Best Badger Brush
Specs:
Hair Type: Best Badger
Knot Size: 19mm
Loft: 55mm
Handle Height: 41mm
Glue Bump: 5mm
MSRP: ~$110USD
This brush was a Christmas gift from my wife, so I hesitate to say anything bad about it, but a review must be done! I love reviewing everything I own, and love to share my opinions with the denizens of the interweb. It was part of a beautiful Mach3 razor set that my wife spend a lot of money on, and I really think it is a beautiful set. For those days when I use my Mach3 razor, I do love it – it looks and feels like pure luxury paired with this brush.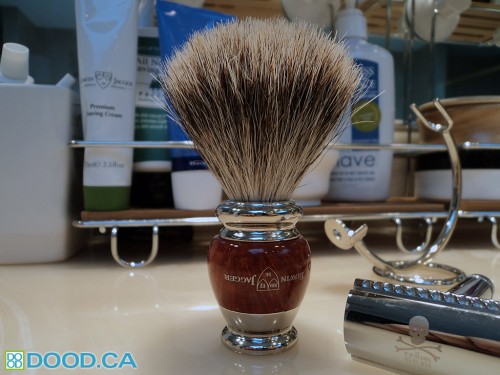 When my wife chose this set, she was told that it was not the best hair for the brush, but that you were paying for the wood and finish on the brush and razor. Edwin Jagger has higher end brush hair sets for less money, but she was sold on the Briarwood handle and polished nickel end caps. I'll admit, the finish on the wood is spectacular, and has held up very well. It is also very heavy, in a good way.. it just feels very solid and well built.
The knot is a floppy fan shape, which is not the current trend for brushes. However, this shape whips lather far quicker than denser short-lofted brushes like the Simpson Chubby. This brush follows in the footsteps for great brushes like the Kent BK8 in all their high lofted floppy glory. While I think short lofts look very cool, they are more difficult to lather with, and they have poor flow-through. This brush excels at both. While it is a bit scritchy, it is still very effective.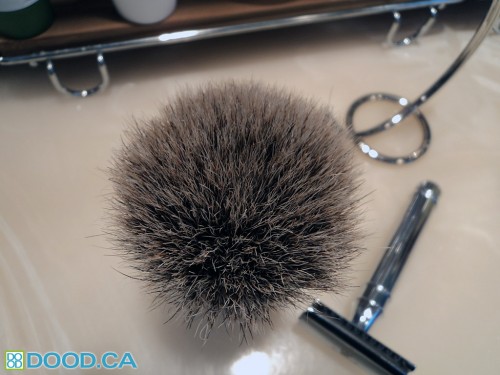 A shot from the top, it doesn't look very dense but I think that's misleading. Its got a high loft, and is only 19mm so it splays out quite a bit at the top, giving the impression that its not very dense. Its actually decently packed, and aside from the slight scritchiness, I think its a fantastic brush. The look and the feel of the brush is very luxurious and I haven't used anything that feel quite like it.. the closest is probably the Joris Stainless Steel brush that I have.
Overall, if you dig a brush that looks and feels luxurious in the hand, this is a good choice. If you're a silvertip snob, look elsewhere, this is best badger grade hair through and through. Its got lots of spring to it and it lathers like a beast, but its not going to feel that luxurious on your face. Good for days with some extra beard because you missed a few days of shaving since it exfoliates a little bit extra.
Edwin Jagger Briarwood Best Badger Brush Specs and Rating:
Handle Comfort: 6
Uncomfortable
Comfortable
Soap Performance: 8
Poor
Excellent
Cream Performance: 8
Poor
Excellent
Bowl Lathering: 5
Poor
Excellent
Face Lathering: 6
Poor
Excellent
Softness: 4
Scratchy
Soft
Backbone: 2
Floppy
Strong
Scrub: 8
Gentle
Scrubby
Density: 5
Sparse
Dense
Hair Thickness: 8
Thin
Thick
Flow-Through: 10
Lather Hog
Lather Giver
Value: 5
Rip-Off
Steal
Overall: 5
Mediocre
Excellent