Posted by the dood on Sunday, December 14th, 2008
Intro
I don't know how many of you guys reading my blog are computer hardware geeks, but I would suspect not too many. I secretly harbour computer hardware geek tendancies, but when it comes to dropping the big money on computer hardware, I still cower. I do like to purchase individual CPUs, Motherboards and Video Cards and swap them out as the need arises, however. Part of the reason I am writing about this is to let you guys know how easy it is for a non-hardware junkie like me to install a new computer from raw parts. The key is making sure the parts you buy are compatible.
Having run my AMD Athalon 64 for the last 2 1/2 years, I felt it was a time for an upgrade, seeing as I only purchased it as an emergency computer when my last Intel CPU died on me. I remember it costed me about $650 to upgrade because I had to buy all new Ram, Video and a new Harddrive in addition to the CPU and Motherboard. My previous motherboard used RDRAM, which had become somewhat obsolete.
So I set out buy the stuff I needed to do the latest upgrade to my machine, and wanted to keep it within the same budget as my last one. I wanted good stuff, but I wanted to keep the expenses on the down low. My old computer parts I was going to give to my dad for his computer.
What I bought:
Asus P5QL Pro Mainboard – I bought this primarily because it was cheaper than the P5Q because of the somewhat cheaper chipset. I am not an overclocker but I do like Asus products, so I bought this one for that reason. Cost: $109CAD
Intel Core 2 Duo 3.0Ghz Wolfdale E8400 – I was contemplating buying this or the Core 2 Quad at 2.33Ghz, but decided that I would stick with the 3.0Ghz Duo since it is faster for most applications since not a lot of stuff is written to take advantage of Quad Cores right now. Cost: $199
OCZ Reaper HPC Ram 4Gigs – I purchased the 6400 stuff because it was cheap, and for no other reason. I got a good deal on it, and its a 2Gig x 2 Dual Channel pack. I've heard some bad things about OCZ ram but we'll see if I experience the problem. They are a Canadian Company which makes RMA easier. Cost: $35
Asus Nvidia EN8800GS Video Card – Another bargain buy. I picked this up because I got a great price and according to reviews this card outperforms the 9500GT cards which cost roughly the same price or higher. Since I got a great deal on this one it came out to about half the price of the 9500GT's. Cost: $55
OCZ GamerXStream 600W PSU – I bought this PSU because I wanted a decent powerful PSU, and this guy was on sale. Works pretty well, and is pretty quiet for a 120mm fan. It has a strange blue LED on the back that glows, though. Plenty of power cables, more than I needed. The only thing that this PSU is missing that more expensive ones have is the module plugs, which isn't too bad. I keep my computer under my desk. Cost: $79
What I have Already:
Lian Li Aluminum Tower Case
Seagate Baracuda 250GB SATA2 HD
Western Digital Caviar 500GB SATA2 HD
So I Swapped out the old Ram, 2 Gigs of stuff which is DDR, not DDR2. Swapped out the old Video card, and just about everything else!
Here are some pics of the process (click to enlarge):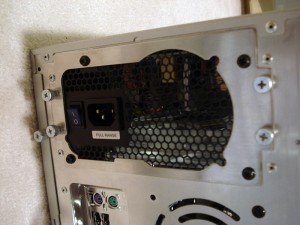 This is the new OCZ Power Supply that I installed. It looks really cool!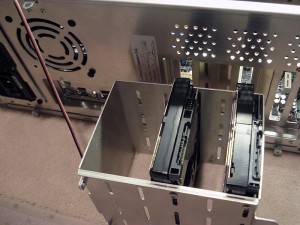 Those are my two Hard Drives. They are mounted into the Lian Li harddrive holder. I am a firm believer that a good case dissipates heat better and makes your computer last longer.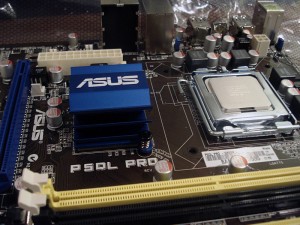 There is my new Intel CPU installed into my Asus Mainboard. I haven't installed the cooling fan yet.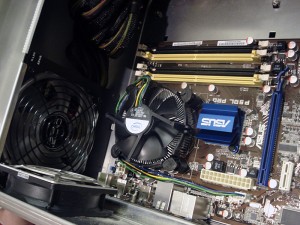 There it is with the stock Intel cooling fan installed. I am not an overclocker so I usually tend to just use the stock stuff. NCIX gave me an Overclocking Guide with my latest purchases but I don't think I am going to risk it.

There's the final shot with everything installed. My Video card is ther with the Gold colored fan/heatsink. and my OCZ Reaper ram is there with the copper heat pipes and black head sinks.
Hope you enjoyed this, though its probably not the most interesting article in the world to a lot of you. 🙂