Posted by the dood on Saturday, October 24th, 2009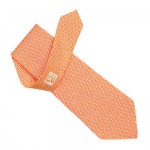 I've purchased a lot of Ties from a lot of brands, and the one brand that consistently has unique classy yet playful designs printed on some of the best silk available is Hermes. It started when I was given an Hermes Tie as a gift, and I really liked the soft hand of the silk, the small repeated patterns, and vibrant colors. No other brand out there makes a Tie like Hermes.
Balenciaga Pour Homme actually used to make some very comparable ties to the Hermes ones, but I don't believe that they still do. Most of the other brands can be inconsistent in their ties. One of the things you need to watch out for when collecting and buying Hermes Ties is the fakes out there. The best guide I have found for this is the Ebay Guide for Spotting Hermes Fakes. Read it, its a good read.