Posted by the dood on Sunday, October 25th, 2009
I have a modest shoe collection, and while I wouldn't call it a collection, I use it for lack of a better term. I grabbed four pairs of shoes from my 10 or so pairs of dress shoes, and decided to do a small write up on them. The shoes are: Allen Edmonds Hastings, Allen Edmonds Lambert, Walter Steiger Wingtip and John Varvatos Wingtip.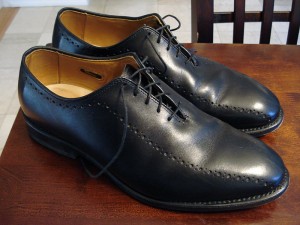 Allen Edmonds Hastings
I really like this shoe. Allen Edmonds makes a great shoe, probably one of the best American-made shoes on the market, especially given their modest cost. While I like English and Italian made shoes, I would be happy with a closet full of AE's as well. The Hastings is a bit stiffer than other AE shoes that I've owned, and is a bit less comfortable. The broguing along the sides looks a bit funny intially, but when worn the shoe looks fantastic. As with most Allen Edmonds these are Goodyear welted.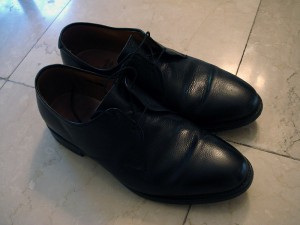 Allen Edmonds Lambert
The Lambert was my first pair of Allen Edmonds shoes. They are very versatile since they are basic oxfords, with a pebble grain pattern. The pattern does flatten a bit over time, especially with repeated polishing. Another thing I like about Allen Edmonds shoes is their wide range of sizes. With my wide feet, they are the easiest to find a perfect size for me.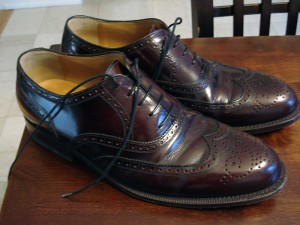 Walter Steiger Wingtips
I picked these up for 70% off at a local store, which still worked out to a pretty pricey shoe since they retailed at $950. They are handmade in Italy and probably the tougest pair of shoes I have owned. They are very well cobbled shoes with amazing detail in the wingtips and broguing. Leather is a cordovan color with full leather soles.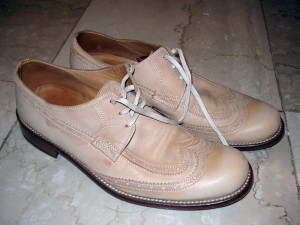 John Varvatos Wingtips
I dig the Varvatos style, and these are great Italian made JV's. Recent Varvatos stuff is no longer made in Italy as these are, so quality has suffered. These wingtips are more casual in their appears and go great with a pair of jeans as well as a summer suit. Very comfortable and flexible shoes, with tremendously soft calf leather uppers. Retail on these shoes is somewhere int he $350 range.